Vows, Vendettas & a Little Black Dress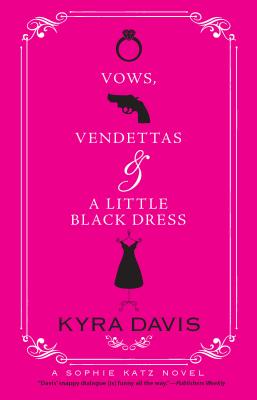 Vows, Vendettas & a Little Black Dress
Mira Books, Paperback, 9780778327899, 311pp.
Publication Date: May 18, 2010
* Individual store prices may vary.
Not Currently Available for Direct Purchase
or
Shop Local
Enter your zip code below to purchase from an indie close to you.
Description
Overjoyed at Maryanne's engagement, amateur sleuth Sophie Katz can't wait for the wedding vows and party toasts to begin. But then Dena—best friend, bridesmaid and all-around vixen—is mysteriously shot just after the announcement. Leave this to the authorities? No way. Dena may never walk again, and Sophie vows to marry her fists with the shooter's face.
Problem is, the number of suspects is off the charts—from jaded lovers to anti-free-lovers to just plain old haters. Dena's made plenty of enemies thanks to her popular sex shop—and, yes, she's no saint—but really, who deserves to be shot?
With an überlogical almost boyfriend condemning her vigilante quest, and a wedding planner going vicariously bridezilla over the dream princess wedding, Sophie's barely thinking straight. But if she can keep her cool (and avoid all errant taffeta), she just might nab her man and save the (wedding) day.
Big if.
About the Author
Kyra Davis is the "New York Times" bestselling author of "Just One Night", "Just Once More," "Just One Lie, "the Pure Sin series, the Sophie Katz mystery series, and the novel "So Much for My Happy Ending". Now a full-time author and television writer, Kyra lives in the Los Angeles area with her husband, son, their leopard gecko, and their lovably quirky Labrador, Sophie Dogz. To learn more, visit KyraDavis.com or follow her on Twitter @_KyraDavis and Facebook.com/AuthorKyraDavis.