The Knitting Diaries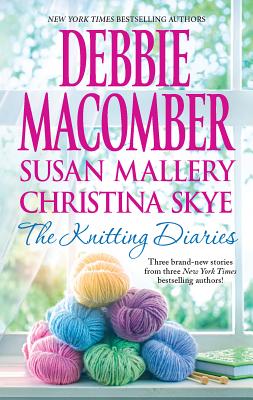 The Knitting Diaries
The Twenty-First Wish\Coming Unraveled\Return to Summer Island
Mira Books, Mass Market Paperbound, 9780778329374, 352pp.
Publication Date: March 29, 2011
* Individual store prices may vary.
Buy Now
or
Shop Local
Enter your zip code below to purchase from an indie close to you.
Description
"The Twenty-First Wish" by Debbie Macomber
Anne Marie Roche and her adopted daughter, ten-year-old Ellen, have each written a list of twenty wishes--on which they included "learning to knit." But Ellen has quietly added a "twenty-first" wish: that her mom will fall in love with Tim, Ellen's birth father, who's recently entered their lives....
"Coming Unraveled" by Susan Mallery
When Robyn Mulligan's dreams of becoming a Broadway star give way to longing for her childhood home, she returns to Texas, running her grandmother's knitting store. But the handsome, hot-tempered T. J. Passman isn't making it easy on her. If he can learn to trust Robyn, and overcome his tragic past, they just might discover a passion like no other.
"Return to Summer Island" by Christina Skye
After a devastating car accident, Caro McNeal is welcomed by a community of knitters on Oregon's sleepy Summer Island. She also finds meaning and purpose in the letters she exchanges with a marine serving in Afghanistan. But when life takes another unexpected turn, will Caro pick up the threads of hope, opening her heart to wherever it takes her?
About the Author
Debbie Macomber has more than 100 million copies of her books in print, and her stories about home and family have a worldwide audience and have been translated into twenty-three languages. In addition to being a #1 New York Times bestseller in fiction many times over, she also has an enormous following among knitters as the author of dozens of pattern and craft books. In 2008, she launched a branded line of knitting products through Leisure Arts, the company that publishes her knitting guides. Debbie and her husband, Wayne, have four children and nine grandchildren, and split their time between Washington State and Florida. This is Debbie s second picture book co-authored with Mary Lou Carney; their first, The Truly Terribly Horrible Sweaer . . . That Grandma Knit, was published in 2009.
New York Times bestselling author Susan Mallery has entertained millions of readers with her witty and emotional stories about women. Publishers Weekly calls Susan s prose luscious and provocative, and Booklist says Novels don t get much better than Mallery s expert blend of emotional nuance, humor and superb storytelling. Susan lives in Seattle with her husband and her tiny but intrepid toy poodle. Visit her at www.SusanMallery.com.
Chritina Skye has eaten snake meat in Shanghai and armadillo in Canton. A Ph.D. graduate in Chinese literature, she has translated for Chinese generals, dissident poets, and fifth-generation puppet masters. In 1981 the Ohio native was nearly arrested when a businessman she was working for insisted she help him smuggle two "ladies of dubious virtue" into Peking's prestigious State Guest House.
The armed PLA soldiers at the gate were not amused, shenotes. But these days Skye's greatest love is England, especially the fog-swept southeast coast. Here she firstencountered the portrait of a proud-faced, sad-eyed aristocratand a great gray cat sitting protectively beneath it. Adrian andGideon haven't given her a moment's peace since.
Two Draycott novellas later (one appeared in Avon Books'Haunting Love Stories and one in Bewitching Love Stories), the award-winning author of four historical romances is deepat work on a new novel set at magical Draycott Abbey.
A descendant of Revolutionary War hero Adam Helmer, Christina Skye currently lives with her husband and youngson in New Jersey, where she prudently avoids snakes andanything that resembles an armadillo.