Thor/Iron Man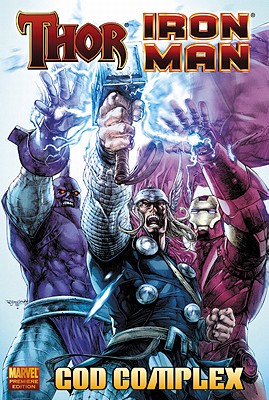 Thor/Iron Man
God Complex
Marvel Comics Group, Hardcover, 9780785151616, 112pp.
Publication Date: May 4, 2011
* Individual store prices may vary.
Not Currently Available for Direct Purchase
or
Shop Local
Enter your zip code below to purchase from an indie close to you.
Description
Thor, God of Thunder, Son of Asgard, heir to the ancient and mythic heritage of divine power Iron Man, invincible hero, miracle of technology, offspring of scientific genius and engineering wonder These two mightiest of Avengers come together to face a menace that is both magical and technological, and which threatens to wipe away the pantheons of legend and science so it can replace them with a shocking new order for the Twenty First century

About the Author
Dan Abnett is the author of the Horus Heresy novels The Unremembered Empire, Know No Fear and Prospero Burns, the last two of which were both New York Times bestsellers. He has written almost fifty novels, including the acclaimed Gaunt s Ghosts series, and the Eisenhorn and Ravenor trilogies. He scripted Macragge s Honour, the first Horus Heresy graphic novel, as well as numerous audio dramas and short stories set in the Warhammer 40,000 and Warhammer universes. He lives and works in Maidstone, Kent.

Andy Lanning, author of Legion Lost and Legion World, first teamed with Dan Abnett in the early 90's and he has proceeded to work on various Marvel and DC projects since breaking into the comic industry.