Thor/Iron Man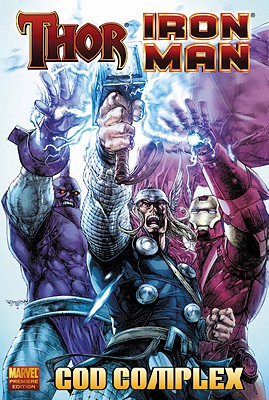 Thor/Iron Man
God Complex
Marvel Comics Group, Hardcover, 9780785151616, 112pp.
Publication Date: May 2011
* Individual store prices may vary.
Shop Local
Enter your zip code below to find indies closest to you.
Description
Thor, God of Thunder, Son of Asgard, heir to the ancient and mythic heritage of divine power Iron Man, invincible hero, miracle of technology, offspring of scientific genius and engineering wonder These two mightiest of Avengers come together to face a menace that is both magical and technological, and which threatens to wipe away the pantheons of legend and science so it can replace them with a shocking new order for the Twenty First century

About the Author
Dan Abnett made his name in the tie-in SF and Fantasy fiction field, selling more than 1.2 million copies in English language of his Warhammer and Warhammer 40,000 novels for Games Workshop s Black Library imprint. They ve also been translated into ten other languages. He s also recently made the UK fiction charts with original Torchwood and Doctor Who novels. His comicbook scripts, for major publishers such as Marvel, DC Comics and the UK s 2000 AD, have attracted critical plaudits and strong sales on both sides of the Atlantic.

Andy Lanning, author of Legion Lost and Legion World, first teamed with Dan Abnett in the early 90's and he has proceeded to work on various Marvel and DC projects since breaking into the comic industry.