The Uncanny X-Men Omnibus, Volume 1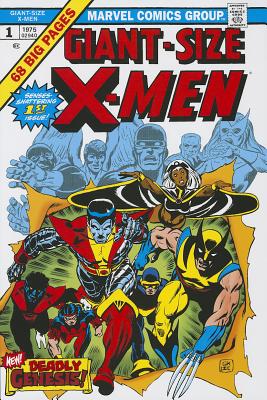 The Uncanny X-Men Omnibus, Volume 1
Marvel Comics Group, Hardcover, 9780785185697, 848pp.
Publication Date: September 24, 2013
* Individual store prices may vary.
Not Currently Available for Direct Purchase
or
Shop Local
Enter your zip code below to purchase from an indie close to you.
Description
When a young writer named Chris Claremont took over X-Men in 1976, few fans could predict the incredible impact he would have on the Marvel Comics series. With a flair for realistic dialogue, heartfelt storylines and hard-hitting action, Claremont's writing breathed life into the characters. In collaboration with artists Dave Cockrum and John Byrne, Claremont crafted a run still heralded as a definitive era on the book. X-Men became more than just another super-hero title: this diverse cast of mutants fighting against prejudice and intolerance has resonated in the hearts of millions of devoted readers. Now, the first five years of their landmark run on Uncanny X-Men are collected in one oversized volume. This keepsake edition also includes all original letters pages, newly re-mastered coloring and other uncanny extras Collects Uncanny X-Men #94-131, and Giant-Size X-Men #1, Annual #3.
About the Author
Chris Claremont is one of the bestselling comic writers in the world. He wrote The Uncanny X-Men for seventeen years as well as the novelization of the movie X-Men 2. He has been the co-creator of several top-selling series for Marvel Comics, including Excalibur, Wolverine, New Mutants, and, in the United Kingdom, Captain Britain. He wrote the Star Trek twenty-fifth-anniversary graphic novel Debt of Honor and a Next Generation sequel, Cry, Vengeance, for DC Comics, as well as" "Alien/Predator: The Deadliest of Species for Dark Horse. His debut novel was Firstflight, the story of a young female astronaut in the twenty-first century, to which he wrote two sequels, Grounded and Sundowner. He collaborated with George Lucas on three novels in The Chronicles of the Shadow War, and has delved into fantasy with the publication of Dragon Moon, a dark fantasy novel co-authored with his wife, Beth Fleisher. The couple lives in Brooklyn with their two children.



John Byrne, originally from Dublin, Ireland, is one of Britain's top cartoonists, comedy writers and stand-up comedians with wide-ranging experience in performance, production and the teaching of creative skills. He is currently the resident artist on Nickelodeon TV (UK), drawing live and unscripted, and often with "art materials" that include everything from sausages to toothbrushes to TV presenters with luminous paint in their hair. He has a six year-old son Pearse, is married to Fumi, and has a house full of teen in-laws (who he loves dearlyespecially since realizing the importance of babysitters!).