The Uncanny X-Men Omnibus Volume 2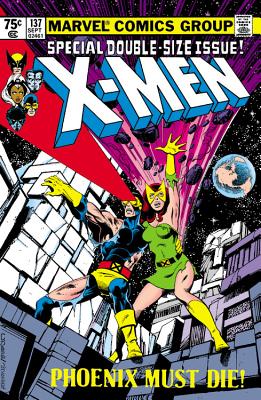 The Uncanny X-Men Omnibus Volume 2
Marvel Comics, Hardcover, 9780785185727, 912pp.
Publication Date: April 29, 2014
* Individual store prices may vary.
Buy at Local Store
Enter your zip code below to purchase from an indie close to you.
or
Not Currently Available for Direct Purchase
Description
Chris Claremont, Dave Cockrum and John Byrne took a little reprint series called X-MEN and turned it into the all-new, all-different titan that conquered comicdom. Now, you can experience the thrills and excitemont of their classic tales from "The Dark Phoenix Saga" to "Days of Future Past" and so much more in this enormous Uncanny X-Men Omnibus Including the first appearances of X-Universe mainstays Emma Frost and Kitty Pryde, the debut of Mystique's Brotherhood of Evil Mutants, Wolverine's first solo story, the original ending of "Dark Phoenix" where Jean Grey lived, a rare adventure into the Savage Land and a host of bonus stories, this is the collection you've been waiting for Reserve your copy today
COLLECTING: THE X-MEN 132-141, ANNUAL 4-5, THE UNCANNY X-MEN 142-153, THE AVENGERS ANNUAL 10, MARVEL FANFARE 1-4, MARVEL TREASURY EDITION 26-27, MARVEL TEAM-UP 100, BIZARRE ADVENTURES 27 & PHOENIX: THE UNTOLD STORY 1

About the Author
Chris Claremont is one of the bestselling comic writers in the world. He wrote The Uncanny X-Men for seventeen years as well as the novelization of the movie X-Men 2. He has been the co-creator of several top-selling series for Marvel Comics, including Excalibur, Wolverine, New Mutants, and, in the United Kingdom, Captain Britain. He wrote the Star Trek twenty-fifth-anniversary graphic novel Debt of Honor and a Next Generation sequel, Cry, Vengeance, for DC Comics, as well as" "Alien/Predator: The Deadliest of Species for Dark Horse. His debut novel was Firstflight, the story of a young female astronaut in the twenty-first century, to which he wrote two sequels, Grounded and Sundowner. He collaborated with George Lucas on three novels in The Chronicles of the Shadow War, and has delved into fantasy with the publication of Dragon Moon, a dark fantasy novel co-authored with his wife, Beth Fleisher. The couple lives in Brooklyn with their two children.



Scott Edelman is the founding editor of Rampage, a glossy, full-color, national magazine devoted to the ups and downs of the professional wrestling world. He has also edited Sci Fi, the official magazine of the Sci Fi Channel, since 1996, and the award-winning short-story magazine Science Fiction Age since 1992.    Over a twenty-five-year career, he has written for both Marvel and DC Comics, Hanna-Barbera, the syndicated TV show Tales from the Darkside, The Washington Post, and others.