From the Hood to the Hill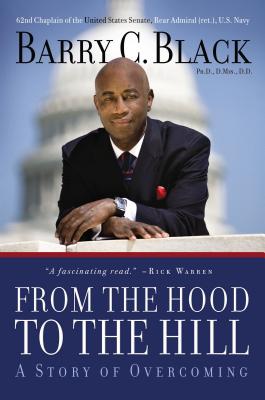 From the Hood to the Hill
A Story of Overcoming
Nelson Books, Hardcover, 9780785218814, 223pp.
Publication Date: August 20, 2006
* Individual store prices may vary.
Buy at Local Store
Enter your zip code below to purchase from an indie close to you.
or
Not Currently Available for Direct Purchase
Description
From the Hood to the Hill is Chaplain Black's story of overcoming unpromising beginnings in the ghettos of Baltimore. His travels through uncharted waters exemplify God's power for change. Read his story and discover how you, too, can move toward unprecedented satisfaction through a living faith in God.
"With Barry Black, you don't just hear a sermon, you see the sermon. That sermon is captured vividly in this story of his life. A life shaped by love, humility, confidence, courage, strength, and hope." - from the Foreword, THOMAS R. CARPER, US Senator
"Barry Black is a leader among leaders. Brilliant and articulate, yet humble and approachable, he is a force for integrity, goodness, and compassion on Capitol Hill . . . this narrative, From the Hood to the Hill, is a fascinating read." - DR. RICK WARREN, Best-Selling Author, The Purpose Driven Life, and Pastor, Saddleback Church, Lake Forest, CA
"Chaplain Barry Black embodies the best of the American Spirit and the Christian tradition-a man of great erudition who has never forgotten his humble roots; a man of great faith who remains open to all the wisdom of all people; a man of great seriousness who knows how to laugh. The Senate and the country are grateful for his service." - BARRACK OBAMA, US Senator
"From a wonderfully unique man comes a powerfully unique story. Barry Black is a testimony to God's faithfulness and grace." - MAX LUCADO, Pastor, Oak Hills Church, San Antonio, TX
"This is an inspiring autobiography by an outstanding man of God, a great leader, a powerful preacher, and a true patriot . . . Barry Black is my cherished friend. I'm honored that he succeeded me as Chaplain of the United States Senate. From the Hood to the Hill is a stirring and power-packed book of the way God uses whom He chooses." - DR. LLOYD J. OGILVIE, Former US Senate Chaplain