A Cold Dark Place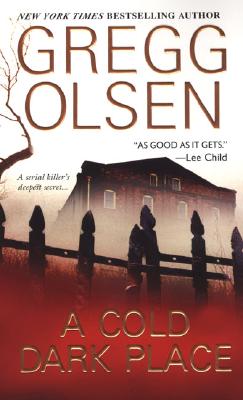 A Cold Dark Place
Pinnacle Books, Mass Market Paperbound, 9780786018307, 384pp.
Publication Date: April 1, 2008
* Individual store prices may vary.
Buy at Local Store
Enter your zip code below to purchase from an indie close to you.
or
Not Currently Available for Direct Purchase
Description
The Seeds Of Evil. . .
In a secluded farm house in the Pacific Northwest, a family has been slaughtered--and a teenage son has disappeared. Single mother and cop, Emily Kenyon spearheads a dark hunt for a killer. But Emily's teenage daughter Jenna is one step ahead of her. . .

Are Planted In. . .
Jenna knows the boy suspected of murdering his family and wants to help him--perhaps too much. Then within days of the first murder, another family is butchered, this time in Iowa. And on the heels of this brutal slaying, another follows in Salt Lake City. Eerie similarities link the crime scenes. But an even darker connection threatens to claim even more victims. . .

A Cold Dark Place
As Emily fits the puzzle pieces together, she realizes the danger surrounding her daughter is worse than she'd imagined. Now in a desperate race to save Jenna, Emily must match wits with the most cunning, diabolical killer she's faced yet in her career--a killer who's just placed her and her daughter at the top of his list. . .

Praise for Gregg Olsen's A Wicked Snow. . .

"Wickedly clever Genuinely twisted."--Lisa Gardner

"A real grabber."--Linda Lael Miller

"An irresistible page-turner."--Kevin O'Brien
"A top-notch thriller."--Donna Anders

Praise for Gregg Olsen's A Cold Dark Place
"Olsen does a nice job balancing past and present plots and subplots in this intricately layered story, keeping the tension taut and pages turning." --"Publishers Weekly"

"A great thriller that grabs you by the throat and takes you into the dark, scary places of the heart and soul."
--Kay Hooper
"Dark, atmospheric, riveting suspense . . . Gregg Olsen is one of the best. You'll sleep with the lights on after reading Gregg Olsen's dark, atmospheric, page-turning suspense . . . if you can sleep at all. Suspense that grips you from the first page to the last."
--Allison Brennan, "New York Times" bestselling author of "Fear No Evil"

"A stunning thriller a brutally dark story with a compelling, intricate plot. The rare bonus is a heroine so genuine and engaging you'll immediately connect and root for her against a dark, evil character who's bound to scare the hell out of you."
--Alex Kava, "New York Times " bestselling author of "Whitewash"

"A page-turner . . . Olsen brings his vast knowledge of the criminal mind to the fictional stage, deftly combining just the right mix of plot and characterization to create a work of dark, gripping suspense."
--Anne Frasier, "USA Today" bestselling author of "Garden of Darkness"

"This stunning thriller is the love child of Thomas Harris and Laura Lippman, with all the thrills and the sheer glued-to-the-page artistry of both."
--Ken Bruen, Shamus Award-winning author of "Priest.
About the Author
Gregg Olsen has been a journalist and investigative author for more than twenty years. He is the recipient of numerous writing, editing, and photojournalism awards, including citations of excellence from the Society of Professional Journalists (Sigma Delta Chi), the International Association of Business Communicators, Washington Press Association, Society of Technical Communication, and the Public Relations Society of America.
A resident of Washington state, Olsen has been a guest on dozens of national and local television shows, including educational programs for the History Channel, Learning Channel, and the Discovery Channel. Olsen also appeared several times on "CBS's 48 Hours, MSNBC's Special Edition, Entertainment Tonight, Sally Jesse Raphael, Inside Edition, "and "Extra". He has been featured in "USA Today, Salon Magazine, Seattle Times, "and "the New York Post." His true crime books include "If I Can't Have You" and "Cruel Deception."