No One Will Hear You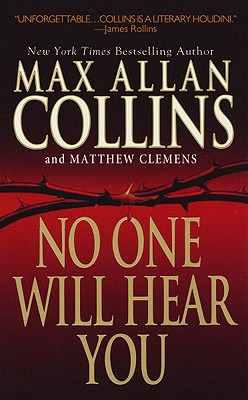 No One Will Hear You
Pinnacle Books, Mass Market Paperbound, 9780786021352, 392pp.
Publication Date: March 1, 2011
* Individual store prices may vary.
Buy at Local Store
Enter your zip code below to purchase from an indie close to you.
or
Not Currently Available for Direct Purchase
Description
Cutting-Edge Action And Suspense. --David Morrell
The first video arrives by email. An unidentifed man. A naked woman. Her scream caught in a freeze-frame. The producers of TV's Crime Seen can't believe what they're witnessing--an all-out sadist "auditioning" for a starring role in reality television. And if he doesn't get it, he'll kill again.
To meet the demented demands of the self-proclaimed "Don Juan," former sheriff and TV host J.C. Harrow has no choice but to spotlight him along with another ruthless maniac who has captivated millions of viewers. Now two killers are locked in a bloodthirsty competition. For fame. For notoriety. For victims.
"No One Can Twist Through A Maze With The Intensity And Suspense Of Max Allan Collins."--Clive Cussler
Max Allan Collins Is. . . "Masterful. His ability to sustain suspense is] exceptional." --"San Diego Union-Tribune"
"Among the finest crime writers working today." --"Milwaukee Journal Sentinel"
"Unforgettable. . .Collins is a literary Houdini." --James Rollins.
About the Author
Max Allan Collins is the New York Times best-selling author of Road to Perdition and multiple award-winning novels, screenplays, comic books, comic strips, trading cards, short stories, movie novelizations, and historical fiction. He has scripted the Dick Tracy comic strip, Batman comic books, and written tie-in novels based on the CSI, Bones, and Dark Angel TV series; collaborated with legendary mystery author Mickey Spillane; and authored numerous mystery series including Quarry, Nolan, Mallory, Eliot Ness, and the bestselling Nathan Heller historical thrillers. His additional Disaster series mystery novels include The Titanic Murders, The Hindenburg Murders, The Pearl Harbor Murders, The Lusitania Murders, and The London Blitz Murders.