The Cruelest Cut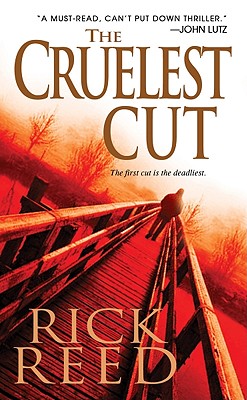 The Cruelest Cut
Pinnacle Books, Mass Market Paperbound, 9780786024834, 422pp.
Publication Date: November 1, 2010
* Individual store prices may vary.
Buy at Local Store
Enter your zip code below to purchase from an indie close to you.
or
Not Currently Available for Direct Purchase
Description
When a killer plays mind games with a cop, There Are No Rules.
The first victim is attacked in her home. Tied to her bed. Forced to watch every unspeakable act of cruelty--but unable to scream. The second murder is even more twisted. Signed, sealed, and delivered with a message for the police, stuffed in the victim's throat. A fractured nursery rhyme that ends with a warning: "There will be more." For detective Jack Murphy, it's more than a threat. It's a personal invitation to play. And no one plays rougher than Jack. Especially when the killer's pawns are the people he loves. . .
"A must-read, can't-put-down adventure." --John Lutz
"A jaw-dropping thriller." --Gregg Olsen
"A tornado of drama." --Shane Gericke
"As authentic and scary as thrillers get." -Nelson DeMille.
About the Author
Sergeant Rick Reed (Ret.) was a member of the Evansville Police Department and Vanderburgh County Sheriff Department in Indiana for 30 years. During that time he served in almost all areas of law enforcement, as a hostage negotiator, handwriting expert, Bunco-Fraud, juvenile, crimes against persons, and homicide. In his law enforcement career he was lead investigator on numerous homicides, rapes, home invasion and battery cases. But it was during his stint in Bunco-Fraud (white collar crime) that he tracked and captured serial killer Joseph Weldon Brown. Reed's acclaimed book, "Blood Trail," is the true account of the investigation, which subsequently unearthed a serial killer claiming the lives of fourteen victims. While serving a life-without-parole sentence for these murders, Brown strangled his cellmate, made coffee, and called for the guard to move the body. Reed signed a two-book contract with Kensington Books to write serial killer thrillers. His first book, "The Cruelest Cut," introduces detective Jack Murphy and his partner, Liddell Blanchard, as they chase a pair of revenge-driven serial killers through the streets of Evansville. "The Cruelest Cut" was released in October 2010. "The Coldest Fear" is also set in Evansville, where the detectives attempt to follow the reasoning of an unfathomable serial killer who is wielding a bone axe. "The Coldest Fear" was released in September 2011. Both of these works have been translated into German and Polish. Reed's third detective Jack Murphy thriller, "Final Justice" addresses the corruption and failings within the criminal justice system. "Final Justice" was released September 2013. Reed is currently at work on the next Detective Jack Murphy Thriller, "Murphy's Law." He also belongs to BOOKCLUBREADING.COM, an innovative group that pairs authors book clubs, libraries, universities, domestic violence groups, and writer's groups. The wonders of the Internet have made it available to have Rick speak at your event via Skype or iChat, or in person.