Eleanor, Quiet No More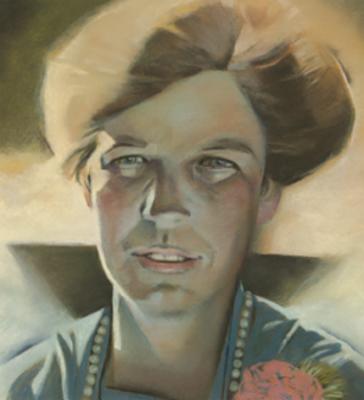 Eleanor, Quiet No More
The Life of Eleanor Roosevelt
Hyperion Books, Hardcover, 9780786851416, 48pp.
Publication Date: February 2009
* Individual store prices may vary.
Shop Local
Enter your zip code below to find indies closest to you.
Description
Eleanor Roosevelt was raised in a privileged but stern Victorian household, with an affectionate but mostly absent father and a critical mother who made fun of her daughter's looks. Alone and lonely for much of her childhood, Eleanor found solace in books and in the life of her lively and independent mind. Her intellectual gifts and compassionate heart won her the admiration of many friends -- and the love of her future husband, Franklin Delano Roosevelt. While other young women of her class were spending time at dances and parties, Eleanor devoted her energies to teaching children in New York City's poorest neighborhoods. Later, she became the most socially and politically active -- and controversial -- First Lady America had ever seen. Ambassador, activist, and champion of civil rights, Eleanor Roosevelt changed the soul of America forever.
In her eloquent prose, Doreen Rappaport captures the essence of Eleanor's character and the deep significance of her legacy. With beautiful paintings by Gary Kelley and selections from Eleanor's own writings, "Eleanor's Big Words" is an extraordinary tribute to an extraordinary American.
About the Author
Doreen Rappaport is the recipient of a Children s Book Guild Nonfiction Award for her body of work. Her books have been praised for both their careful research and their varied literary styles. Among the many titles to her name are a trilogy on African-American history, illustrated by Shane W. Evans; books on Native American history and women s history; and many biographies, including Lady Liberty: A Biography, illustrated by Matt Tavares. Beyond Courage, her most ambitious project to date, took more than six years to research and write and presented her with the opportunity to speak directly with some of the survivors whose stories are told within. How Jews organized themselves in order to survive and defy their enemy is an important but still neglected piece of history, she says. I present a sampling of actions, efforts, and heroism with the hope that I can play a role in helping to correct the damaging and persistent belief that Jews went like sheep to the slaughter. Doreen Rappaport lives in upstate New York.

Gary Kelley is an author and retired master teacher, with BA and MAT degrees in elementary education. He is an authority on the outdoors, with over 50 magazine articles to his credit. He teaches wilderness survival skills, and has taught Fur Trade Era history for the Oregon Historical Society. He has also been an Oregon State licensed wildlife control agent. His first juvenile novel, The Youngest Mountain Man, was published in 2010. Be sure to visit him at www.garykelleywriter.com.