Please Don't Just Do What I Tell You!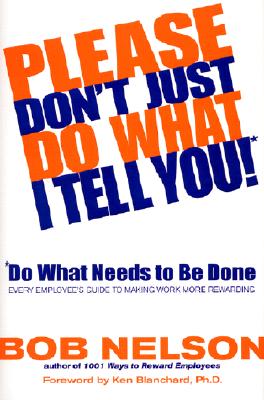 Please Don't Just Do What I Tell You!
Do What Needs to Be Done: Every Employee's Guide to Making Work More Rewarding
Hyperion Books, Hardcover, 9780786867295, 112pp.
Publication Date: September 28, 2001
* Individual store prices may vary.
Buy Now
or
Shop Local
Enter your zip code below to purchase from an indie close to you.
Description
The author of the million-copy-selling 1001 Ways series shows how to get ahead by fulfilling every employers ultimate expectation. This book contains a clear message: Every boss wants an effective worker to do what most needs to be done without having to be asked. Simple? Perhaps. Easy? Not on your life. But thanks to Bob Nelson, employers and employees everywhere will be empowered by this vital message, and in the process achieve their goals and create a mutually rewarding experience. As brief, to the point, and inspiring as his previous best-selling titles, Nelsons commonsense advice can be applied to any situation, from the mailroom to the boardroom, and is illustrated with a wide array of examples and anecdotes from real life. Helping readers tap into their own intelligence, resourcefulness, and pride, Nelson demonstrates how acts of initiative both big and small can make an enormous difference in the way an employee is viewed--and rewarded--by his or her boss; he also shows how the effects of those actions benefit the entire organization. It's a perfect first day on the job book; a useful resource for any HR department; and a worthwhile investment for anyone who wants to learn more and go farther in a job, in a career, and in life.
About the Author
Bob Nelson, Ph.D., is president of Nelson Motivation, Inc., a founding board member of the National Association for Employee Recognition (NAER), and bestselling author, including the 1001 Ways series and Managing for Dummies. Dr. Nelson lives and works in San Diego, California.

Ken Blanchard is the Chief Spiritual Officer of the Ken Blanchard Companies. He is the coauthor of "The One Minute Manager", "Raving Fans" and many other international bestsellers. His books have combined sales of more than eighteen million copies in more than twenty-seven languages.