A Patriot's Handbook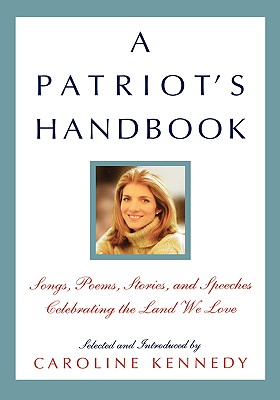 A Patriot's Handbook
Songs, Poems, Stories, and Speeches Celebrating the Land We Love
Hyperion, Hardcover, 9780786869183, 688pp.
Publication Date: May 2003
* Individual store prices may vary.
Shop Local
Enter your zip code below to find indies closest to you.
Description
Caroline Kennedy shares an inspiring collection of patriotic poems, song lyrics, historical documents, and speeches. The Best-Loved Poems of Jacqueline Kennedy Onassis was a blockbuster success, remaining on the New York Times bestseller list for 15 weeks with more than 500,000 copies in print. Now, Caroline Kennedy shares with readers an assortment of her own favorite American writings. The works collected here--which span centuries and styles--have one thing in common: all are emblematic of our country's patriotism and pride. Caroline Kennedy researched all of the selections included in A Patriot's Handbook, wrote the introduction, and added personal commentary to each section. This elegantly packaged collection is the perfect gift for anyone in search of a reminder of what our country's spirit is made of. "Over the past year we have all thought about what it means to be an American. I realized that I want my own children to know more about the ideals upon which this country was founded and the sacrifices that have been made to pass them on to us. This book is intended to help families explore the foundations of our freedom and to celebrate our heritage." (Caroline Kennedy)
About the Author
Caroline Kennedy is the editor of the New York Times bestselling A Patriot's Handbook, Profiles in Courage for Our Time, The Best-Loved Poems of Jacqueline Kennedy Onassis, A Family of Poems, A Family Christmas, and the coauthor of The Right to Privacy and In Our Defense: The Bill of Rights in Action. She serves as the Vice Chair of the Fund for Public Schools in New York City and President of the John F. Kennedy Library Foundation. She lives in New York City.