Everyday Blessing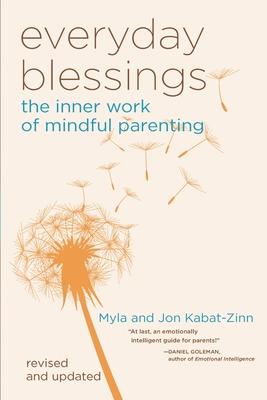 Everyday Blessing
The Inner Work of Mindful Parenting
Hachette Books, Paperback, 9780786883141, 416pp.
Publication Date: May 1, 1998
* Individual store prices may vary.
Buy Now
or
Shop Local
Enter your zip code below to purchase from an indie close to you.
Description
The bestselling author of "Wherever You Go, There You Are "(more than 1,000,000 total copies in print) and "Full Catastrophe Living "joins forces with his wife, Myla, in this groundbreaking revised edition (released in October, 2014) of the classic book about mindfulness in parenting children of all ages. Updated with new material--including an all new introduction and expanded practices in the epilogue--"Everyday Blessings "remains one of the few books on parenting that embraces the emotional, intuitive, and deeply personal experience of being a parent, applying the groundbreaking "mind/body connection" expertise from global mindfulness leader, Jon Kabat-Zinn and his wife, Myla Kabat-Zinn.
With the growing interest in mindfulness as a way of living, and with increasing scientific evidence of its value for optimal health and well-being, including a new field in psychology devoted to mindful parenting, and with mindfulness being increasingly integrated into K-12 education, there has never been a better time for cultivating greater mindfulness in parenting and in family life.
About the Author
Myla Kabat-Zinn, RN, BSN, spent a number of years assisting at births both in the hospital and at home.During those years she also taught childbirth education classes based on mindful awareness. She isthe coauthor, with her husband Jon, ofEveryday Blessings: The Inner Work of Mindful Parenting. She has leadworkshops onmindful parenting in the US and in Europe.

Jon Kabat-Zinn, PhD, is internationally known for his work as a scientist, writer, and meditation teacher engaged in bringing mindfulness into the mainstream of medicine and society. He is professor of medicine emeritus at the University of Massachusetts Medical School, and author of numerous books, including Full Catastrophe Living, Arriving at Your Own Door, and Coming to Our Senses.