Sucks to Be Me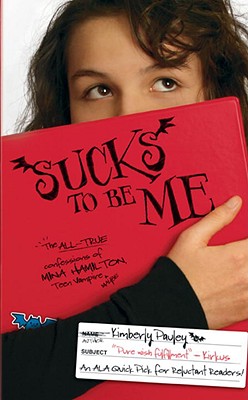 Sucks to Be Me
The All-True Confessions of Mina Hamilton, Teen Vampire, Maybe
Mirrorstone, Paperback, 9780786952564, 297pp.
Publication Date: August 11, 2009
* Individual store prices may vary.
Not Currently Available for Direct Purchase
or
Shop Local
Enter your zip code below to purchase from an indie close to you.
Description
Mina Hamilton's parents want her dead. (Or undead to be precise.) They're vampires, and like it or not, Mina must decide whether to become a vampire herself. But Mina's more interested in hanging out with best friend Serena and trying to catch the eye of the too-hot-for-high-school Nathan Able than in the vampire training classes she's being forced to take. How's a girl supposed to find the perfect prom date and pass third-year French when her mom and dad are breathing down her neck--literally?
About the Author
Kimberly Pauley aime les romans qu'elle peut devorer a pleines dents. Elle est l'une des fondatrices d'un site Internet tres populaire aux Etats-Unis, YA Books Central, qui est dedie a la litterature jeunes adultes, ce qui lui permet de lire beaucoup et d'etre toujours a la pointe de l'actualite en matiere de romans pour adolescents. Pourquoi Moi? est son premier roman.