Still Sucks to Be Me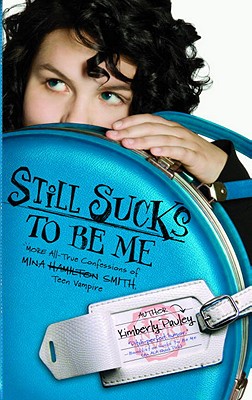 Still Sucks to Be Me
More All-True Confessions of Mina Hamilton Smith, Teen Vampire
Wizards of the Coast, Paperback, 9780786957842, 374pp.
Publication Date: July 12, 2011
* Individual store prices may vary.
Not Currently Available for Direct Purchase
or
Shop Local
Enter your zip code below to purchase from an indie close to you.
Description
With vampire boyfriend George and best friend Serena by her side, Mina thought she had her whole life or rather afterlife ahead of her. But then Mina's parents drop a bomb. They re moving. To Louisiana. And not somewhere cool like New Orleans, but some teeny, tiny town where cheerleaders and jocks rule the school. Mina has to fake her death, change her name, and leave everything behind, including George and Serena. Not even the Vampire Council's shape-shifting classes can cheer her up. Then Serena shows up on Mina's doorstep with some news that sends Mina reeling. Mina may look a lot better with fangs, but her afterlife isn t any less complicated
In this eagerly awaited sequel to the popular "Sucks to Be Me, "Kimberly Pauley addresses many of her fans most pressing questions (Will Serena become a vampire? What happened to Raven? What's next for Mina and George?) with signature humor and breezy bloodsucking style.
"From the Hardcover edition.
About the Author
Kimberly Pauley is the award-winning author of "Sucks to Be Me", which was honored on the YALSA Quick Picks for Reluctant Readers list. Born in California, she has lived everywhere from Florida to Chicago and has now gone international to live in London with her husband and son. She is also the founder of YA Books Central, one of the first and largest teen book websites in the world.
Praise For Still Sucks to Be Me…
Praise for Sucks to Be Me and Still Sucks to Be Me:
 
"Of all the Vampire novels I have read, Sucks to Be Me was my absolute favorite.  It was smart, original, with a lovely, honest heroine, and it was laugh-out-loud funny. I almost fell out of bed laughing at one point. I couldn't wait to get a hold of the sequel, Still Sucks to Be Me. When it came out, I devoured every page. For those who love the genre, yet are tired of tragic, Byronic lugubrious vampires, this is truly a unique and hilarious read."—Margot Adler, NPR correspondent and author of Drawing Down the Moon.
 
Praise for Sucks to Be Me
"Pure wish fulfillment"—Kirkus
 
"The adolescent vampire novel gets a pleasantly light, bizarrely heartwarming treatment in this novel . . . It's an unusual mix, a welcome change from all the darker, angsty teen vampire novels around these days, and a very promising first novel."—Locus
 
"The lively pace, amusing tone, and accessibly non-gory vampire plot make this an ideal summer beach read, particularly for horror fans who may appreciate a lighter look at the path toward immortal bloodsucker." —Bulletin of the Center for Children's Books