Neverwinter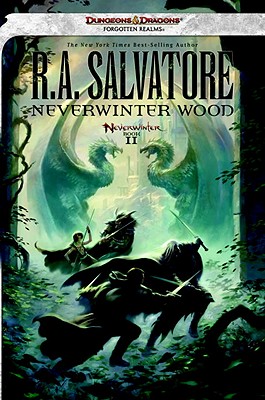 Neverwinter
Wizards of the Coast, Hardcover, 9780786958429, 346pp.
Publication Date: October 4, 2011
* Individual store prices may vary.
Not Currently Available for Direct Purchase
or
Shop Local
Enter your zip code below to purchase from an indie close to you.
Description
With the last of his trusted companions having fallen, Drizzt is alone--and free--for the first time in almost a hundred years. Guilt mingles with relief, leaving Drizzt uniquely vulnerable to the persuasions of his newest companion--Dahlia, a darkly alluring elf and the only other member of their party to survive the cataclysm at Mount Hotenow. But traveling with Dahlia is challenging in more ways than one. As the two companions seek revenge on the one responsible for leveling Neverwinter--and nearly Luskan as well--Drizzt finds his usual moral certainty swept away by her unconventional views. Forced to see the dark deeds that the common man may be driven to by circumstance, Drizzt begins to find himself on the wrong side of the law in an effort to protect those the law has failed. Making new enemies, as his old enemies acquire deadly allies, Drizzt and Dahlia quickly find themselves embroiled in battle--a state he's coming to enjoy a little too much.
About the Author
R.A. Salvatore was born in Massachusetts in 1959. His love affair with fantasy, and with literature in general, began during his sophomore year of college when he was given a copy of J.R.R. Tolkien s The Lord of the Rings as a Christmas gift. He promptly changed his major from computer science to journalism. He received a Bachelor of Science Degree in Communications in 1981, then returned for the degree he always cherished, the Bachelor of Arts in English. He began writing seriously in 1982, penning the manuscript that would become Echoes of the Fourth Magic. His first published novel was The Crystal Shard from TSR in 1988 and he is still best known as the creator of the dark elf Drizzt, one of fantasy s most beloved characters. His novel The Silent Blade won the Origins Award, and in the fall of 1997, his letters, manuscripts, and other professional papers were donated to the R.A. Salvatore Library at his alma mater, Fitchburg State College in Fitchburg, Massachusetts.