Charon's Claw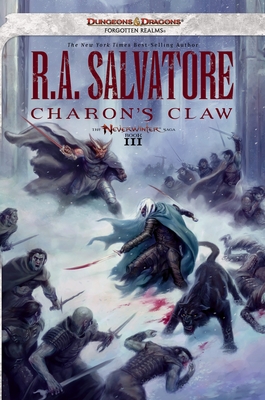 Charon's Claw
Wizards of the Coast, Mass Market Paperbound, 9780786963621, 442pp.
Publication Date: February 5, 2013
* Individual store prices may vary.
Buy at Local Store
Enter your zip code below to purchase from an indie close to you.
or
Buy Here
Description
In the 3rd book of the #4 New York Times best-selling Neverwinter Saga, Drizzt draws his swords once more to aid his friends. His lover, Dahlia Sin'felle, can speak of nothing but the moment she will face the Netherese lord Herzgo Alegni once again. Drizzt has already followed a trail of vengeance beside Dahlia. Can he justify one more battle to settle a grudge he does not understand? Artemis Entreri too seeks vengeance. He offers to aid Dahlia in her mission to destroy Alegni. But Charon's Claw, Alegni's sentient sword, dominates Entreri's movements--if not his mind. And then there's the way Entreri looks at Dahlia. Can Drizzt trust his old foe?
Praise for the Neverwinter Saga:
"Emotional, respectful of its characters, intelligently written and structured, and finally summons a sense of nostalgic sorrow throughout"-Fantasy Book Review on
Gauntlgrym
, Neverwinter Saga Book I
"Full of excitement. Salvatore has mastered the art of showing a beautiful fight scene, and he is at the top of his game in this one. We meet many characters with many different fighting styles, and Salvatore does a great job of distinguishing between them. He manages to take these scenes from so much more than just a fight scene, to an integral part of the story."--The SFF Hub on
Gauntlgrym
, Neverwinter Saga Book I "A quick read with some very satisfying fight scenes. It's also deeply layered with emotional atmosphere" --California Literary Review on
Gauntlgrym
, Neverwinter Saga Book I
About the Author
R.A. Salvatore is the New York Times best-selling author of more than forty novels, including the popular Forgotten Realms series The Legend of Drizzt. He's an avid gamer, father of three, and loyal citizen of Red Sox Nation. Residence: Massachusetts