In Season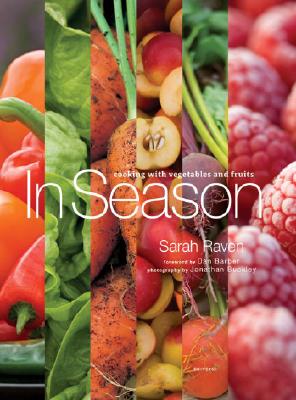 In Season
Cooking with Vegetables and Fruits
Universe Publishing(NY), Hardcover, 9780789318114, 463pp.
Publication Date: September 16, 2008
* Individual store prices may vary.
Shop Local
Enter your zip code below to find indies closest to you.
Description
Here Sarah Raven, a leading proponent of the local foods movement, shows how to make the most of fresh produce, whether from your own garden, your local farmers' market or the grocery. Taking us through the year in six seasonal chunks of two months each, she highlights the best vegetables, fruits, and herbs from each period, throwing in tidbits she's learned firsthand from her own garden. The more than 250 simple and delicious recipes borrow from different cuisines and include such inventive dishes as Cranberry Bean Hummus; Squid, Pea, and Chorizo Stew; Basil Custard; Zucchini Chutney; Saute of Peas and Lettuce; Penne with Preserved Lemon and Avocado; and Pears Poached in Saffron Syrup. While some recipes are ideal for vegetarians, there are many designed to bring out the best in meat, poultry, and seafood. In Season will inspire a new appreciation of fresh produce and will be an indispensable addition to every serious cook's shelves.
About the Author
Raven runs her own gardening school "The Cutting Garden" at Perch Hill in Sussex, England. She specializes in teaching people who have never picked up a spade. She writes for the gardening section of the Daily Telegraph.

Various authors

Dan Barber is the executive chef of Blue Hill, a restaurant in Manhattan s West Village, and Blue Hill at Stone Barns, located within the nonprofit farm Stone Barns Center for Food & Agriculture. He lives in New York City.
Praise For In Season…
"In Season is a revelation: an expansive, gorgeous how-to, like a Joy of Cooking for the modern age....(An) unpretentious and exhilarating new book..." ~House Beautiful

"This is a book you'll want to use for inspiration and low-stress entertaining." ~Los Angeles Times

"...luscious new book...the photos of fresh produce will have you careening to the kitchen..." ~United Media

"If you're looking for a way to invigorate the humble baked potato..." ~Associated Press

"The photos of fresh produce in this book will send you careening to the kitchen, whether you want to cook with figs or some other luscious-looking fruit or vegetable." ~The Harlan Daily Enterprise

"Shrimp, pasta and stir-fry recipes for the time-starved cook." ~The Washington Post

"This book is a great addition to feature in your fresh produce aisle." ~Globalchefs.com

"The book is skillfully sprinkled with mouthwatering pictures and inspiring essays about the delights of cooking and eating with fresh produce." ~Whole Foods Magazine