I Lie for a Living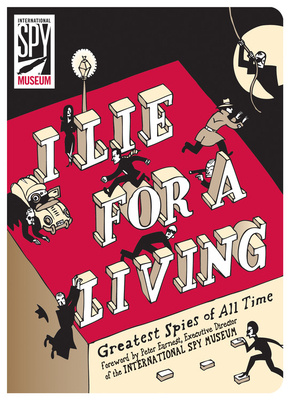 I Lie for a Living
Greatest Spies of All Time
National Geographic Society, Paperback, 9780792253167, 189pp.
Publication Date: May 2, 2006
* Individual store prices may vary.
Buy at Local Store
Enter your zip code below to purchase from an indie close to you.
or
Not Currently Available for Direct Purchase
Description
Top Secret is definitely not the right word for the International Spy Museumits launch in 2002 made news and it has been high-profile ever since, with attendance growing by leaps and bounds. The International Spy Museum Handbook of Practical Spying has already been declassified to the delight of those in the need-to-know. Now, following up on that success, here's an illustrated biographical who's who of spydom from biblical days to recent times. I Lie for a Living is a regular rogue's gallery of history's most accomplished intriguers and intelligence operatives, famous and infamous alike.

It's amazing how colorful some of these characters are, like 16th century playwright, brawler and secret agent Christopher Marlow or Virginia Hall and Josephine Baker, femmes fatales both. Organized into ten thematic chapters, this light-hearted but clear-eyed look at lone-wolf moles, double agents, and intricate triple-crosses unmasks a wide-ranging roster from covert patriots whose unheralded heroism sometimes cost them their lives to mercenary traitors for sale to the highest bidder, like Benedict Arnold or Aldrich Ames.

It's a for-your-eyes-only kind of book, so bewareif you don't watch your back it's a sure bet someone will be reading it over your shoulder.
About the Author
Antony Shugaar is a writer and translator. Aside from Giorgio Faletti s "A Pimp s Notes", his recent translations include books by Simonetta Agnello Hornby, Silvia Avallone, Nanni Balestrini (with an NEA translation fellowship), Fabio Bartolomei, Massimo Carlotto, Giancarlo De Cataldo, Diego De Silva, Marco Mancassola, Gianni Rodari, and Paolo Sorrentino. He is the author of "Coast to Coast" and "I Lie for a Living" and the coauthor, with the late Gianni Guadalupi, of "Discovering America" and "Latitude Zero". He has published with the "Washington Post", the "Boston Globe", and online with the "New York Times", among other publications. He is currently at work on a book about translation for the University of Virginia Press.

Guarnaccia is an illustrator, designer, and author.

Peter Earnest is the former Senior CIA National Clandestine Service Officer and is the Executive and Founding Director of the International Spy Museum in Wachington DC. Peter has written several books relating to intelligence, including "Business Confidential: Lessons for Corporate Success from Inside the CIA."