John Smith Escapes Again!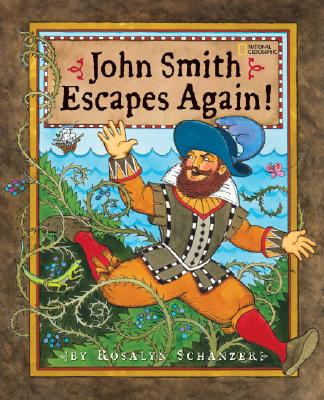 John Smith Escapes Again!
National Geographic Society, Hardcover, 9780792259305, 64pp.
Publication Date: October 10, 2006
* Individual store prices may vary.
Buy at Local Store
Enter your zip code below to purchase from an indie close to you.
or
Not Currently Available for Direct Purchase
Description
Long before Harry Houdini thrilled the world with his impossible deeds, America had produced an escape artist whose biography reads like an adventure novel.

Many readers will know John Smith as the man rescued from death by Pocahontas, but Smith's story included a series of fantastic episodes: escape from imprisonment, ambush by Indians, attacks by ruthless sea pirates, and more escapades than seem possible in one life.

Now, just in time for the 400th anniversary of the founding of Jamestown, author Rosalyn Schanzer recounts the full details of John Smith's eventful life in her engaging storytelling style, complemented with a series of entertaining illustrations.

Smith's role as the president of the pioneering colony of Jamestown is well known to schoolchildren. Schanzer's compelling narrative adds the perspective of Smith's English background to his better known adventures in America. Readers are given a complete portrait of the intrepid explorer and adventurer, of the fighter whose battling spirit always prevailed, and of the writer whose work was to shape the idea of the American Dream.

Smith's story is punctuated by several impossibly daring escapes. His final escape left us with the rich legacy of his life story: through his writings, he escaped the fate of dying unknown. He returned to England as a poor man with a rich trove of memories, spending his final years writing the popular books that defined colonial America in tales of excitement and courage.
About the Author
Patricia Lauber is the highly acclaimed author of, among others, Volcano, a Newbery Honor Book, and Flood, a School Library Journal Best Book of the Year. Her fascination with horses began in childhood, when she loved to read about them. She learned to ride, and at the age of twelve spent a memorable summer on a ranch in New Mexico. Patricia Lauber lives with her husband in New Canaan, Connecticut.
Rosalyn Schanzer has written and illustrated several outstanding children's books, including her How We Crossed the West, which received starred reviews from School Library Journal and Publishers Weekly, and, most recently, Gold Fever! As a child, she always enjoyed reading stories about horses. By the time the artist was twelve years old, she'd read all of the Black Stallion books, by Walter Farley; then she studied the muscle structures of horses so that she could draw them herself. Rosalyn Schanzer lives with her husband, Steve, their children, Adam and Kim, and their family dog, Jones, in Fairfax Station, Virginia.
Patricia Lauber and Rosalyn Schanzer recently collaborated on The True-or-False Book of Cats, which School Library Journal called "A delightful look at the behavior of these popular pets ... A book that will frequently stray from the shelf."