The Voyage of the Beagle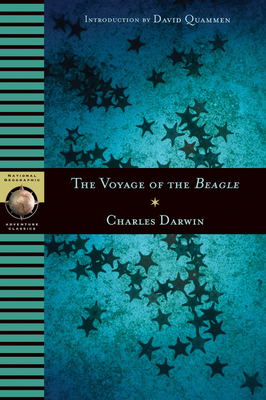 The Voyage of the Beagle
National Geographic Society, Paperback, 9780792265597, 459pp.
Publication Date: April 1, 2004
* Individual store prices may vary.
Buy at Local Store
Enter your zip code below to purchase from an indie close to you.
or
Buy Here
Description
Charles Darwin's theory of evolution and natural selection has been debated and disparaged over time, but there is no dispute that he is responsible for some of the most remarkable and groundbreaking scientific findings in history. His five-year trip as a naturalist on the H.M.S."Beagle"took him on a journey to such exotic locales as Chile, Argentina, and the Galapagos Islands. Darwin wrote the details of this expedition, including his thoughts about the people on the ship and of course, his observations of the flora and fauna, in his journal, published as"Voyage of the Beagle."It is here that his original interpretations of the Galapagos ecosystem and the impact of nature and selection are first revealed.
This edition of the classic travel memoir is enhanced with an introduction by bestselling nature writer David Quammen, and is part of National Geographic's major cross-platform event in spring 2009 to celebrate the anniversary.
About the Author
Charles Darwin was an English naturalist and author best-known for his revolutionary theories on the origin of species, human evolution, and natural selection. A life-long interest in the natural world led Darwin to neglect his medical studies and instead embark on a five-year scientific voyage on the HMS Beagle, where he established his reputation as a geologist and gathered much of the evidence that fuelled his later theories.A prolific writer, Darwin s most famous published works include The Voyage of the Beagle, On the Origin of Species, The Descent of Man, and Selection in Relation to Sex, and The Expression of Emotions in Man and Animals. Darwin died in 1882, and in recognition of his contributions to science, is buried in Westminster Abbey along with John Herschel and Isaac Newton.

David Quammen is the author of The Song of the Dodo, among other books. He has been honored by the American Academy of Arts and Letters and is the recipient of a John Burroughs Medal and the National Magazine Award. He lives in Bozeman, Montana.