End of the Earth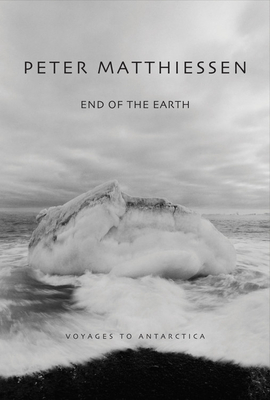 End of the Earth
Voyaging to Antarctica
National Geographic Society, Paperback, 9780792268369, 288pp.
Publication Date: September 1, 2004
* Individual store prices may vary.
Buy at Local Store
Enter your zip code below to purchase from an indie close to you.
or
Buy Here
Description
Matthiessen has once again lit upon a subject profoundly fitted to his creative genius. He is simply the ultimate lyricist of loss, a writer brilliantly attentive to the way vanishings are braided into even the most exquisite moments of our lives. He agonizes over what is passing away, but does so in a manner that increases our appreciation of what remains. In "End of the Earth," Matthiessen joins the crew of the Akademik-a 384-foot research vessel bound for wild and storied South Georgia Island and Antarctica. Along the way we are treated to a patented Matthiessen brew: lyricism and emotion applied to the sharp-eyed evaluations of a seasoned naturalist. Brilliant and instructive observations of the creatures inhabiting this far-flung region are sprinkled with eloquent disquisition on the history of the region (Shackleton, Captain Cook, the first Antarctic whaling station at Grytviken which processed 25, 60-foot whales a day between 1900 and 1903) the effects of pollution and the resulting global warming that, unchecked, threaten polar meltdown and the exponential obliteration of vast quantities of the world's land mass. He tells us why the waters off South Georgia are one of the richest whale-feeding grounds of the world, how the wandering albatross-with the greatest wingspan (ll. feet) of any bird on earth-"arching down the sky to vanish behind a wave, curving high again like a white cross," excited cries of wonder from the crew of the Akademik. We learn of the inexplicable king penguin congregation (70,000 strong) in Gold Harbor, how seabirds process saltwater, the habits of every variety of fur seal, walrus petrel and penguin that inhabit the region. And just when you think yourappetite for nature depiction is slaked, an intense hurricane batters the Akademik for two days, injuring virtually everyone on board. Like all great writers Matthiessen is both obsessive and expansive as he converts his travels to the world's most remote and unforgiving places into opportunities to embrace a host of landscapes and creatures with a boundless curiosity. After 28 books and 75 peripatetic years, his passion for the natural world is undiminished, and "Islands at the End of the Earth," is Matthiessen at the very top of his game.