Geography of Religion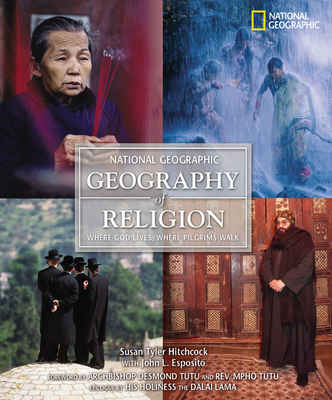 Geography of Religion
Where God Lives, Where Pilgrims Walk
National Geographic Society, Hardcover, 9780792273134, 416pp.
Publication Date: December 1, 2004
* Individual store prices may vary.
Not Currently Available for Direct Purchase
or
Shop Local
Enter your zip code below to purchase from an indie close to you.
Description
From its introduction by Nobel Laureate Desmond Tutu to the epilogue by the Dalai Lama, "Geography of Religion" encourages new understanding of the world's great religions and of their evolution from ancient roots to vital roles in modern life. With a text as fascinating as it is authoritative; vivid photographs that evoke the reverence, rituals, and rewards of each spiritual tradition; and a rich variety of essays, sidebars, and maps, this magnificent book charts the many paths that guide us to God.
Chapters on each of the 5 major religionsHinduism, Buddhism, Judaism, Christianity, and Islamexplore the landscapes and cultures where they took hold and flourished. Eminent scholars share the faiths they live and study, revealing their sacred scriptures and rites. Every page offers new insights into religious history and doctrine, along with stunning images of believers at prayer, the holy places they cherish, and their houses of worshipfrom soaring cathedrals and magnificent mosques to humble shrines infused with a blessed simplicity.
Fittingly, each chapter closes with a photo-essay on pilgrims and their devotional journeysa wonderful visual reminder that no matter which faith we may embrace, we are all fellow travelers in our search for the truth.
"The 200 photographs demonstrating the diversity of architecture, people, and terrain, are stunning in their beauty and simplicity." "Publishers Weekly"
"From the Trade Paperback edition.
About the Author
Susan Tyler Hitchcock's last book was "Mad Mary Lamb: Lunacy and Murder in Literary London". Married with two children, she lives near Charlottesville, Virginia.

Tenzin Gyatso, the Fourteenth Dalai Lama, is the spiritual and temporal leader of the Tibetan people. He was awarded the Nobel Peace Prize in 1989. He lives in exile in Dharamsala, India.

Desmond Mpilo Tutu was awarded the Nobel Peace Prize in 1984. In 1986 he was elected archbishop of Cape Town, the highest position in the Anglican Church in South Africa. In 1994, after the end of apartheid and the election of Nelson Mandela, Tutu was appointed as chair of South Africa's Truth and Reconciliation Commission to investigate apartheid-era crimes. His policy of forgiveness and reconciliation has become an international example of conflict resolution and a trusted method of postconflict reconstruction. He is currently the chair of The Elders, where he gives vocal defense of human rights and campaigns for the oppressed.