George vs. George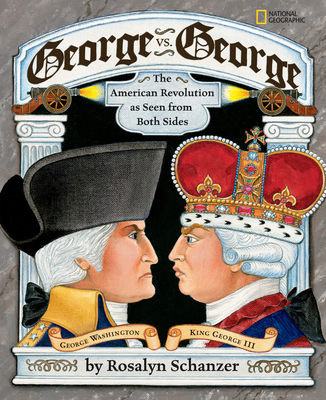 George vs. George
The Revolutionary War as Seen by Both Sides
National Geographic Society, Hardcover, 9780792273493, 64pp.
Publication Date: October 2004
* Individual store prices may vary.
Shop Local
Enter your zip code below to find indies closest to you.
Description
There are two sides to every story. Rosalyn Schanzer's engaging and wonderfully illustrated book brings to life both sides of the American Revolution.
The narrative introduces anew the two enemies, both named George: George Washington, the man who freed the American colonies from the British, and George III, the British king who lost them. Two leaders on different sides of the Atlantic, yet with more in common than we sometimes acknowledge. We are lead through their story, and the story of their times, and see both sides of the arguments that divided the colonies from the Kingdom. Was King George a "Royal Brute" as American patriots claimed? Or was he, as others believed, "the father of the people?" Was George Washington a scurrilous traitor, as all the king's supporters claimed? Or should we remember and celebrate him as "the father of his country?" Who was right? History teaches us that there are two sides to every story.
Rosalyn Schanzer's book is an accessible account of one the most vital periods in American history. It is also a timeless lesson in seeing history from different points of view. The author spent two years researching books, paintings, cartoons, and descriptions of Revolutionary times. She uses art, text, and first-hand accounts to illustrate how history should never be reduced to simplistic conflicts between the "good guys" and the "bad guys." Her illustrations, and her engaging quote bubbles, bring the Revolution to life again, and allow the characters of the period to speak for themselves. Through its lively text, detailed illustrations, and fully authenticated quotes, "George vs. George" shines fresh light on both sides of the story of our country's formative years.
"From the Trade Paperback edition.
About the Author
Patricia Lauber is the highly acclaimed author of, among others, Volcano, a Newbery Honor Book, and Flood, a School Library Journal Best Book of the Year. Her fascination with horses began in childhood, when she loved to read about them. She learned to ride, and at the age of twelve spent a memorable summer on a ranch in New Mexico. Patricia Lauber lives with her husband in New Canaan, Connecticut.
Rosalyn Schanzer has written and illustrated several outstanding children's books, including her How We Crossed the West, which received starred reviews from School Library Journal and Publishers Weekly, and, most recently, Gold Fever! As a child, she always enjoyed reading stories about horses. By the time the artist was twelve years old, she'd read all of the Black Stallion books, by Walter Farley; then she studied the muscle structures of horses so that she could draw them herself. Rosalyn Schanzer lives with her husband, Steve, their children, Adam and Kim, and their family dog, Jones, in Fairfax Station, Virginia.
Patricia Lauber and Rosalyn Schanzer recently collaborated on The True-or-False Book of Cats, which School Library Journal called "A delightful look at the behavior of these popular pets ... A book that will frequently stray from the shelf."