Go Wild in New York City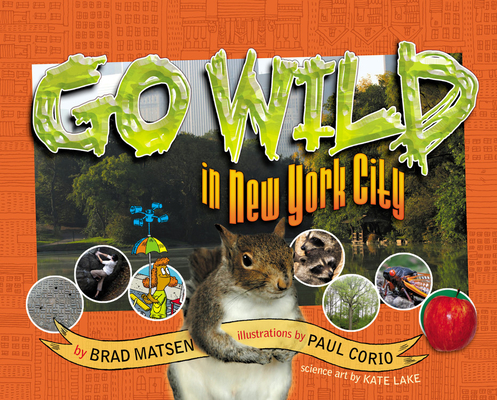 Go Wild in New York City
National Geographic Society, Hardcover, 9780792279822, 80pp.
Publication Date: February 1, 2005
* Individual store prices may vary.
Buy at Local Store
Enter your zip code below to purchase from an indie close to you.
or
Not Currently Available for Direct Purchase
Description
Go Wild in New York City is the brainchild of author Brad Matsen and philanthropist Ted Kheel. Its mission is to open kids' eyes to the hidden natural wonders of the urban environment-in this case, New York City. This book will help children understand and celebrate city life, while also sparking interest in science topics and promoting ways of caring for the earth. This book seeks to answer children's most basic questions such as, "Where does water come from?" or "Why is the sky blue?" It also serves up page after page of fascinating trivia and fun facts about the Big Apple. For instance: "New York City's hottest day ever? (July 9, 1936 when the thermometer climbed to 115 degrees Fahrenheit!) "The amount of sewage generated in an average day? (1.4 billion gallons) "Did you know that at the end of the 19th Century, Manhattan alone had 150,000 horses living in it? (And no public street-cleaning works?) "Oh, and about those alligators in the sewer systemo?= Chapters include: 1.Water City -water, sewage 2.NYC Rocks! -rocks, earth, and ice age of NYC 3.Take a Deep Breath - weather, atmosphere, and climate 4.Hey, Nice Plants!- plants, air, flowers, pollution 5.Rulers of New York - bugs, bugs, bugs! 6.Fur, Fins, Fangs, & Feathers- everything that walks, crawls, slithers, or flies in NYC 7.Food In, Garbage Out - the incredible story of NYC's garbage, peee-youuu! All chapters discuss pollution issues and environmental concerns. Each chapter features activities for the reader, as well as websites to go to for further research. The back matter includes resources, an index, additional information and websites, a complete map of New York City, and information on the missions of the organizationsinvolved. Go Wild is supported by the non-profit organization Nurture New York's Nature (NNYN) headed by a legendary mediator in the labor industry and the extremely philanthropic Ted Kheel. NNYN's mission is to bring attention to the need for sustainable development in urban environments. Mr. Kheel's passion for his work has initiated an assortment of projects supporting resource-friendly development and awareness throughout New York City. By inspiring this book, Mr. Kheel hopes to reach out to the children of the city and incite their environmental awareness at an early age. Mr. Kheel's extensive personal connections, including the likes of Oscar de la Renta and Mikhail Baryshnikov, will certainly help to promote this book and make it a sales success. Mr. Kheel's Go Wild "team" will be working in and out of the City to get the word out. Mr. Kheel is very committed to this project and appears to have an endless supply of resources, both socially and monetarily, to help support the project. To find out more about NNYN and their extensive list of other projects, go to http: //www.nnyn.org/about.html. For a biography on Ted Kheel, take a look at www.ilr.cornell.edu/library/kheel/generalInfo/tedKheelBio.html. This book is also tied to the extraordinary art exhibition that is slated to begin in the city in February 2005-The Gates Project for Central Park. This project, supported by NNYN and paid for by the artists themselves, will feature the artwork of famed artists Christo and Jeanne-Claude. This exhibition, which has already been receiving an enormous amount of attention in NYC, marks the first time these artists are granting full license to anyone to use their intellectual property. Allproceeds from this will be used to create awareness of the importance of nurturing New York's nature to the health and well being of the City's inhabitants, and to support the Arts for their power to advance that goal.