Created Equal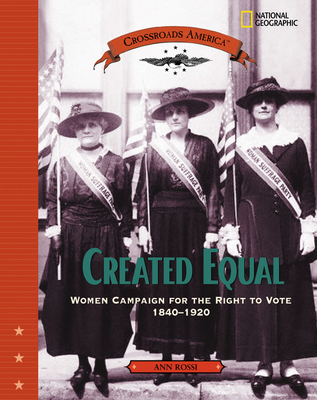 Created Equal
Women Campaign for the Right to Vote 1840 - 1920
National Geographic Society, Hardcover, 9780792282754, 40pp.
Publication Date: February 2005
* Individual store prices may vary.
Shop Local
Enter your zip code below to find indies closest to you.
Description
Created Equal begins with the early suffragist movement of the late 19th century, telling of the state of women's rights as they were at the time. The reader will learn about Elizabeth Cady Stanton, Lucretia Mott, and the other women of the Seneca Falls Convention. Having helped to start the suffragist movement, women such as Susan B. Anthony and Lucy Stone fought long and hard for the rights of women. Braving the turmoil of the Civil War era, these women formed organizations such as the American Equal Rights Association and helped to push for equal rights for not only themselves, but for African Americans as well. The turn-of-the-century saw a growth in the anti-suffragist movement, and new ladies appeared on the scene ready to fight hard for their beliefs. Alice Paul and her contemporaries reinvigorated the suffragist movement and spurred an organized political effort to win the vote. Through protests, parades, journalistic pieces, and even jail sentences, these women pushed the government to pass the 19th Amendment that would give women the right to vote. Their fight was difficult and long, but the suffragist movement prevailed. By 1920, American women across the country were able to vote in a national election for the first time. Like the others in the series, Created Equal is illustrated with period photographs, paintings, and drawings. Also included are a glossary and an index
About the Author
Born into a Swedish family, Ann Rossi learned English as she was growing up in the United States. She lives in Portland, Maine.