Passion and Purity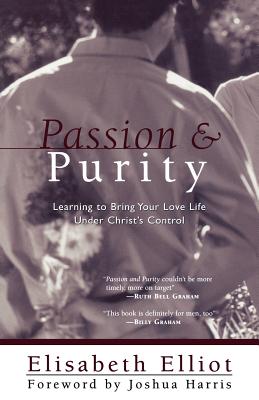 Passion and Purity
Learning to Bring Your Love Life Under Christ's Control
Fleming H. Revell Company, Paperback, 9780800758189, 192pp.
Publication Date: April 2012
* Individual store prices may vary.
Buy Now
or
Shop Local
Enter your zip code below to purchase from an indie close to you.
Description
Very few books on dating have stood the test of time like Passion and Purity. Its much-needed message remains strong and hopeful in an age when doing whatever "feels right" is common practice. Using her own life as an example, Elisabeth Elliot guides singles of both genders and of any age on how to put their love lives under the authority of Jesus Christ.
Passion and Purity covers dating issues such as:
-how to know which person is the right one to marry
-loving passionately while remaining sexually pure
-the man's and woman's role in relationships
-putting God's desires ahead of personal desires
-how far is too far, physically

This best-selling book now has a new cover, an updated interior design, and a foreword from popular author Joshua Harris. Quest for Love will be redesigned in a similar manner to help readers identify the books as a pair. While Passion and Purity shares the love story of Elisabeth and Jim, Quest for Love is a compilation of stories on how other men and women discovered love through God's direction. Together, these two remarkable books accentuate our need to commit daily to Christ all matters of the heart and to wait on his timing.
About the Author
Elisabeth Elliot (1926-2015) was one of the most perceptive and popular Christian writers of the last century. The author of more than twenty books, including "Passion and Purity", "The Journals of Jim Elliot", and "These Strange Ashes", Elliot offered guidance and encouragement to millions of readers worldwide.

Joshua Harris lives outside Washington, D.C., in Gaithersburg, Maryland, where he is a pastor at Covenant Life Church. His greatest passion is preaching the gospel and calling his generation to wholehearted devotion to God. Joshua and his wife Shannon have two children, Emma Grace and Joshua Quinn.

Ruth Bell Graham was the child of missionary parents, wife of world-renowned evangelist Billy Graham, mother of five children, grandmother of nineteen, and great-grandmother to a growing number. Shewas the author of many books, including "Footprints of a Pilgrim, One Wintry Night, " and "Mothers Together" (written with her daughter GiGi Graham Tchividjian).