Driving Like Crazy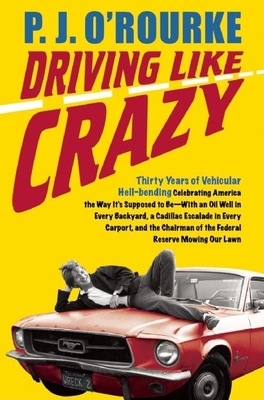 Driving Like Crazy
Thirty Years of Vehicular Hell-bending, Celebrating America the Way It's Supposed To Be -- With an Oil Well
Atlantic Monthly Press, Hardcover, 9780802118837, 288pp.
Publication Date: June 1, 2009
* Individual store prices may vary.
Not Currently Available for Direct Purchase
or
Shop Local
Enter your zip code below to purchase from an indie close to you.
Description
A collection spanning thirty years, chronicling famed humorist and gearhead P. J. O'Rourke's love affair with the automobile from mid-twentieth century to now—from heyday to sickbay.
Praise For Driving Like Crazy…
"With the car industry under attack, both socially and economically, it is pleasing to read O'Rourke's trenchant analysis of all the good things the automobile has brought to American society, even as his tongue is firmly planted in cheek . . . A great book for summer reading; thumbing through it elicits a laugh at almost any point." —Library Journal

"Libertarian satirist P.J. O'Rourke has built a bestselling career by celebrating his own politically incorrect intemperance. So it's only fitting that he's devoted some of his best writing to that gaudy metaphor for excess, the gas-guzzling muscle car . . . The collapse of the auto industry makes the book poignantly timely." —SmartMoney

"Car buff or not, all dads can enjoy satirist P.J. O'Rourke's ode to the American automobile." —The Daily Beast

"[A] treat of a book . . . As with almost all of O'Rourke's work, it's easy reading, and he's just as good, if not better, at cracking wise about cars and driving as he is about liberal politics." —Dallas Morning News

"Readers looking for insights and laughs will not be disappointed by Driving Like Crazy . . . [it] is a ride worth taking, even for readers who don't know an oil pan from a frying pan." —Washington Times

"Driving Like Crazy isn't just a bound collection of greatest hits. P.J. has written new lead-ins to each story that offer fresh meat even for those who think they've read it all before . . . This book is a must-read." —Automobile Magazine

"Reading O'Rourke can be like being dragged over a rocky field by a runaway ox on crystal meth—a wild and bumpy ride. His is a cartoonish vision of life, unapologetically if not joyously puerile, with enough hyperbolic volatility pumped into every paragraph to explode the Hindenburg all over again . . . For the automotive Walter Mittys of the world, who dream of an outlaw life on the road and identify more with the peace-disturbers than the peacemakers, it's definitely something worth keeping under the pillow." —Bruce McCall, Globe and Mail

"An insightful look not just at the American love affair with cars, but also at one man's changing outlook on life, all of it fast-paced and over the top . . . Even readers who know nothing about cars and motorcycles will appreciate the joy and hilarity of this book." —Booklist

"Never in neutral, O'Rourke offers laughter on wheels." —Publishers Weekly

"Fasten your seatbelt, O'Rourke is about to provide us with some rocket-reading essays about life in the fast lane, the slow lane, and most of the time, no lane at all . . . This is not your parent's armchair travel book, but be sure to make it yours." —Ohioana Quarterly

"This book is a monument to slash-and-burn living, glorifying old cars whose miles-per-gallon ratings read like shoes sizes and indulgent off-road races conducted in fragile terrain. The thing is, you'll hardly hear the cries of the rare lizards and cactuses being ground to extinction under O'Rourke's tires because you'll be laughing too hard." —New York Times Book Review