The Journal Keeper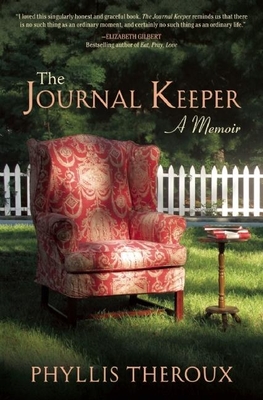 The Journal Keeper
A Memoir
Atlantic Monthly Press, Hardcover, 9780802118974, 281pp.
Publication Date: February 23, 2010
* Individual store prices may vary.
Buy at Local Store
Enter your zip code below to purchase from an indie close to you.
or
Not Currently Available for Direct Purchase
Description
Essayist Phyllis Theroux has long captivated readers with her pitch-perfect rendering of the inner lives of American women. "The Journal Keeper" is a memoir of six years in her life. A natural storyteller, Theroux slips her arm companionably into yours, like an old friend going for a stroll. But Theroux's stride is long, her eye sharp, and she swings easily between subjects that occupy us all: love, loneliness, growing old, financial worries, spiritual growth, and watching her remarkable mother prepare for death. Theroux began to keep a journal when she was in distress. It saved her life by helping her to see circumstances more clearly. With nuggets of wisdom, "The Journal Keeper" is a rich feast from a writing lifewith a surprising romantic twist. But it was not until Theroux sat down to edit her journals for publication did she realize, in her words, that a hand much larger and more knowing than my own was guiding my life and pen across the page. She makes a good case for this being true for us all.
About the Author
Phyllis Theroux s books include the memoir "California and Other States of Grace," several essay collections, including "Nightlights: Bedtime Stories for Parents in the Dark," a novella, "Giovanni s Light," and an anthology, "The Book of Eulogies." She lives in Ashland, Virginia."
Praise For The Journal Keeper…
[Theroux] excels at closely observed and elegantly expressed portraits of domestic life that fondly recall the tradition of E.B. White. Theroux is a lovely writerThe best thing about The Journal Keeper is the way it keeps us hopefuland expectantabout what will happen next."Danny Heitman, Christian Science Monitor

Theroux seems to possess a certain calmness and wisdom[The Journal Keeper] is full of small, lyrical insights."Juliet Wittman, The Washington Post

In addition to offering her smart observations on issues that concern us, too, [Theroux] opens a window on an intelligent kind of journal keeping, the kind that relies on considered thoughts instead of rantsTheroux possess all the field marks of a good writer: Her images and metaphors are so good they glow; her descriptions give us a sense of the place she inhabits[Her] adviceLean toward the light' and make it a place to save small pieces of beauty'is unnecessary. With The Journal Keeper, she has already shown us how."Jann Malone, Richmond Times-Dispatch

Captivatinga multi-dimensional pleasureTheroux offers us a multilayered view of herself that is at once whimsical and profoundwhatever her subjectgrowing old, spiritual growth, life in a small town, her students and teaching life, even a new romantic passionTheroux is able to reach deep inside and step outside herself with inspiring aplomb."Linda Stankard, Bookpage


When a writer of Theroux's stature chooses to share such introspective feelings with the world, readers are afforded an unparalleled opportunity to observe how such crystalline powers of observation are developed and nurturedEditing more than six years of her personal reflections, Theroux goes public in this elegiac memoir of love and loss, an elegant tribute to the resiliency of human nature."Booklist

I loved this singularly honest and graceful book. The Journal Keeper reminds us that there is no such thing as an ordinary moment, and certainly no such thing as an ordinary life."Elizabeth Gilbert, best-selling author of Eat, Pray, Love

In lovely, straightforward prose, Theroux speaks honestly about the quotidian and miraculous aspects of loss and new chances. It's all herebirths, deaths and marriagesand the reader is invited into the intimacies of a world that is both familiar and full of surprises."Elizabeth Strout, Pulitzer Prizewinning author of Olive Kitteridge

What a wonderful, wonderful book! I felt like I was on a little journey. It really made me think beyond the page. The Journal Keeper reads like a case study of a person's life. You will read it more than once."Amy Sedaris, author of the New York Times best-selling I Like You: Hospitality Under the Influence

If I were in one of Phyllis Theroux's writing classes, she surely would disapprove of my using seven enthusiastic adjectives all in a row. But no fewer could do justice to The Journal Keeper, her open-hearted, honest, honorable, wise, generous, brave and utterly captivating book which sheds a clarifying light on the pain and possibilities present in the third-third of our lives. Read it. You'll love it, and her, and your own newly promising future."Judith Viorst, best-selling author of Necessary Losses and Alexander and the Terrible, Horrible, No Good, Very Bad Day

The Journal Keeper mesmerized me! There's the double narrative of the writing life and the life going on around Theroux that is utterly absorbing. I read it straight through in twenty-four hours and could not put it down."Naomi Shihab Nye, author of You & Yours