Baba Yaga Laid an Egg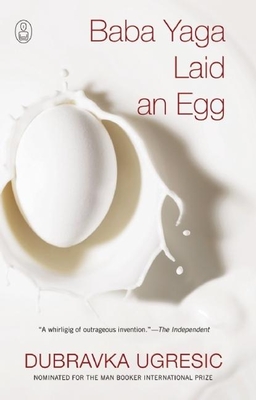 Baba Yaga Laid an Egg
Canongate Books, Hardcover, 9780802119278, 327pp.
Publication Date: February 2, 2010
* Individual store prices may vary.
Buy at Local Store
Enter your zip code below to purchase from an indie close to you.
or
Not Currently Available for Direct Purchase
Description
According to Russian myth, Baba Yaga is a witch who lives in a house built on chicken legs and who kidnaps small children. In "Baba Yaga Laid an Egg," internationally acclaimed writer Dubravka Ugresic takes the timeless legend and spins it into a fresh and distinctly modern tale of femininity, aging, identity, and love. With barbed wisdom and razor-sharp wit, Ugresic weaves together the stories of four women in contemporary Eastern Europe: a writer who grants her dying mother's final wish by traveling to her hometown in Bulgaria, an elderly woman who wakes up every day hoping to die, a buxom blonde hospital worker who's given up on love, and a serial widow who harbors a secret talent for writing. Through the women's fears and desires, and their struggles against invisibility, Ugresic presents a brilliantly postmodern retelling of an ancient myth that is infused with a human warmth . . . and] the sweet magic of storytelling ("Times Saturday Review").
About the Author
Dubravka Ugresic was born in 1949 in Yugoslavia. Her novels and essays have been translated into more than twenty languages and she has received several major European literary awards.
Praise For Baba Yaga Laid an Egg…
Powerful . . . Majestic . . . Ugresic has created a wise, sharp fairy tale of her own. And like one of those mythic stories, it's slow to reveal its secrets. Every element has hidden meaning, and repeat readings are rewarded. . . . It's a work worthy of any crone. And I mean that as a compliment."NPR

Ugresic's multilayered narratives come together as an exploration of femininity, identity, mortality, and folklore's wondrous powers." Booklist

Ugresic's style is eminently readable, and the novel is as ambitious as it is rewarding. . . . Readers unafraid of the fantastic will find many surprising riches in Ugresic's work." Library Journal

Dubravka Ugresic is one of the most interesting writers working today. Her books are consistently good, even across genres. . . . Her fiction is always enjoyable, surprising, captivating, and envelope-pushing. Baba Yaga Laid an Egg is a perfect example of Ugresic's fertile imagination. . . . Its exacting descriptions and twisted plot machinations . . . are vintage Ugresic. . . . Comedic . . . Postmodern . . . A novel that defies most novelistic conventions, that doesn't so much retell the story of Baba Yaga as explode it into several very enjoyable fragments."Three Percent

[A] biting and profound new fairy tale." The Week

[Ugresic's] instincts as a storyteller are sure. . . . A playful, inventive, and humane look at women and aging." Kirkus Reviews

Ugresic's postmodern take on myth, femininity, and aging provides a beautifully written window into Slavic literature." Publishers Weekly

Told with her characteristic dark humor and sharp intelligence, if you haven't been acquainted with Dubravka Ugresic previously, this book is a fine introduction to her manifold talents." The Morning News

Ugresic [possesses a] genuinely humorous intelligence. Her wit is bound by no preconceived purposes, and once the story takes off, a wild freedom of association and adventurous discernment is set in motion." World Literature Today

Ugresic's work belongs in the tradition in which storytelling is a form of fantasy, play, a non-representational patterning of experience, and a defining activity of social criticism. Secular, acerbic, comic, springing from skepticism, her fiction reflects a return to earlier forms: allegory, parable, fable, aphorism, midrashim or proverbial wisdom literature. . . . A hybrid work, a comic fable in three parts, combining autobiography, travel, memoir, fable, satire, and essay. . . . Ugresic's approach to myths opposes the archaic view that there is a time-hallowed truth waiting to be unveiled, instead treating the stories as volatile and dynamic . . . attempting to dispel the ill effects, misery, prejudices, and disgust that bedevil female aging." London Review of Books

A mirthlessly witty divertimento on female old age. Ugresic's meta-narrative sings with intelligence; its cryptic weirdness challenges the reader. . . . A whirligig of outrageous invention." The Independent

Ugresic's vision of the senile and the displaced, living among the ruins of the post-Communism and Separatism in one of the five fragmented countries of former Yugoslavia, is astutely analytical of Balkan dystopia, beautifully written, dolefully humorous. . . . Here is Margaret Atwood's dark vision of the speciousness of modern times coexisting comfortably with Molly Keane's sense of absurdity, against a backdrop of the Balkan surreal out of The Good Soldier Schweik . . . . It is a grown up novel with grown up prepositions; its humane vision of the world is driven by great imaginative impetus." Times Literary Supplement

There's no better writer to take Baba Yaga on than the brilliantly relentless, sly Dubravka Ugresica writer who bites. . . . [ Baba Yaga Laid an Egg ] moves along with breathtaking clarity . . . [proving that] sexism and ageism and ism-ing in general is a way to deflect the real power of real human beings, to subordinate it to a perverse social order. . . . I don't think any reader will part with Baba Yaga Laid an Egg without joining, or fearing, the proletarian Hag International, the crazy army of score-settling Baba Yagas. . . . [A] dazzlingly mean work of a great writer."Bookslut

Ugresic's retelling may be blisteringly postmodern in its execution but at its heart is a human warmth . . . that infuses it with the sweet magic of storytelling." Times Saturday Review

The message that old crones are the product of long-lived, labyrinthine, fertile, profoundly misogynistic but also cathartic work of the imagination' is expressed with humor, eloquence, and anger.'" New Statesman