Worm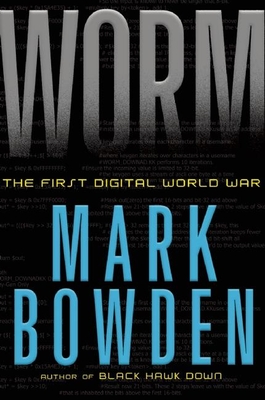 Worm
The First Digital World War
Atlantic Monthly Press, Hardcover, 9780802119834, 245pp.
Publication Date: September 27, 2011
* Individual store prices may vary.
Not Currently Available for Direct Purchase
or
Shop Local
Enter your zip code below to purchase from an indie close to you.
Description
From the author of "Black Hawk Down" comes the story of the battle between those determined to exploit the internet and those committed to protect itthe ongoing war taking place literally beneath our fingertips.
The Conficker worm infected its first computer in November 2008 and within a month had infiltrated 1.5 million computers in 195 countries. Banks, telecommunications companies, and critical government networks (including the British Parliament and the French and German military) were infected. No one had ever seen anything like it. By January 2009 the worm lay hidden in at least eight million computers and the botnet of linked computers that it had created was big enough that an attack might crash the world. This is the gripping tale of the group of hackers, researches, millionaire Internet entrepreneurs, and computer security experts who united to defend the Internet from the Conficker worm: the story of the first digital world war.
About the Author
Mark Bowden is a noted body language expert, master of non-verbal and verbal communication, and a leader in the techniques of influence. The creator of TruthPlane, a unique model of training for anyone who has to communicate to an audience, his techniques are used now by top executives and political leaders across the globe. Mark gained his university degree in performance in the UK, and studied the gesture control methods of Jacques Lecoq's Laboratory of Movement, Paris; he has worked with leading practitioners of movement psychology and built upon the influence techniques of Dr. Milton Erickson. He holds a reputation as one of the UK's expert performance trainers, lecturing on performance at Drama Academies and Universities throughout the UK and across the world including RADA, Oxford and Cambridge; he is a highly sought after trainer in business communication at Canadian Universities including McGill, and international top ten business school Schulich at York. His client list of leading business people and politicians currently includes presidents and CEO's of fortune 50 companies and a G8 Prime Minister.
Praise For Worm…
Worm is worth attention. Government officials up to and including President Obama have taken notice of Conficker and begun to address some of the issues it raised."Bloomberg

When Mark Bowden writes, smart readers pay attention. . . . Bowden is a deserved brand name a superb reporter and compelling narrative writer, whether his subject is war in a forlorn land (Black Hawk Down, set in Somalia) or a variety of others in seven other books (Killing Pablo, Guests of the Ayatollah, etc.). And now we have the current masterpiece, Worm."The Philadelphia Inquirer

The author takes readers behind the scenes, showing the security specialists' increasing frenzy, not to mention occasional infighting, as they worked to defeat the worm. Along the way, the author lucidly explains how malware can take over computers as well as how the very openness of the Internet makes it vulnerable to attack."Publishers Weekly

From the author of Black Hawk Down, a different sort of blood-and-thunder heroism narrative, out on the frontiers of cybercrime. . . . A brief, punchy reminder of our high-tech vulnerabilities."Kirkus Reviews

Bowden . . . gives this account of the computer world's efforts to neutralize the Conficker worm the flavor of a riveting report from the digital battlefield's front lines. . . . A nerve-wracking but first-rate inside peek into the world of cybercrime and its vigilant adversaries."Booklist

[T]he thumbs of every 30-something üntergeek will still Tweet in ecstasy at seeing technical terms like NCP/IP, Port 445, and MS08-067 spread across the pages of a mainstream book. But the rest of us should take Mark Bowden's warnings with the utmost seriousness because of the growing threats to our wired world."New York Journal of Books
Tuesday, Sep 27, 2011
As many as 12 million computers worldwide have been infected with a highly encrypted computer worm called Conficker. Writer Mark Bowden details how Conficker was discovered, how it works, and the ongoing programming battle to bring down Conficker in his book Worm: The First Digital World War. More at NPR.org