Cubop City Blues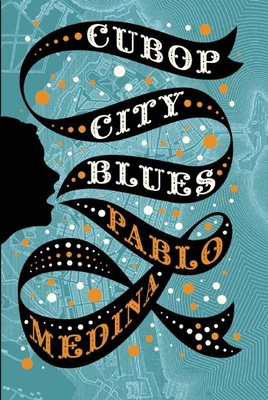 Cubop City Blues
Grove Press, Hardcover, 9780802119841, 260pp.
Publication Date: June 5, 2012
* Individual store prices may vary.
Buy at Local Store
Enter your zip code below to purchase from an indie close to you.
or
Not Currently Available for Direct Purchase
Description
Poet and novelist Pablo Medina's "Cubop City Blues" fuses raw, passionate language and elegant lyricism to breathe life into a musically disguised New York City shaped by jazz masters, refugees, and storytellers.
Our guide into Cubop City is The Storyteller, born nearly blind and shrouded in his mother's guilt. He's homeschooled inside his parents crumbling apartment with a European housekeeper, and educated through Encyclopedia Britannica, "The Bible," and" Arabian Nights." When he's twenty-five, his mother and father are diagnosed with cancer, and The Storyteller is left to care for them. He does so by telling them stories conceived from the prolific reading that allowed his imagination to flourish despite little contact with the outside world.
Through his talesfull of magic, sorrow, longing, loveCubop City surges to life. Moving through myriad points of view, The Storyteller imagines a world populated by both well-known figures like Chano Pozo and Jelly Roll Morton, and invented characters, most notably a mustachioed man who is stabbed by a stranger and embarks on a novel-long search for his attacker.
Molded in the cadence of Afro-Cuban jazz, "Cubop City Blues" is a symphonic portrait of a bustling urban landscape and the intimate lives that give a city its voice.
About the Author
Pablo Medina's poetry has been called "exuberant," "provocative," and "nothing short of linguistic mastery." Born in Big Banana Havana, Medina grew up in Big Apple New York. Fruit, he loves fruit. He longs for Big Papaya, pink and juicy, of which he can't get enough. He is also a novelist, translator, and essayist. His books of poetry include THE MAN WHO WROTE ON WATER (Hanging Loose Press, 2011), THE FLOATING ISLAND (White Pine Press, 1999), and ARCHING INTO THE AFTERLIFE (Bilingual Review Press, 1991). Medina lives in Boston, in an exile surrounded by icicles, and is on the faculty at Emerson College and Warren Wilson MFA Program for Writers.
Praise For Cubop City Blues…
"[Medina's] most touching novel to date . . . A rich and stunning novel with an incredibly intricate scaffolding. . . . Yet another triumph."Los Angeles Review of Books

[A] haunting love letter to New York . . . Vivifies the cityscape over many decades with tales of love, death, and exile . . . Rich and accomplished . . . Medina has a keen eye for the ebb and flow of desire. . . . There is beauty, suffused with a muted melancholy, in Medina's attempt to capture the rhythms of life."Publishers Weekly

"An enjoyable read that reminds us the world is as expansive as our imagination. Readers who enjoy the work of Omar Torres and Cristina Garcia will want to add Medina to their reading list."Library Journal

"Storytelling that playfully illuminated the essence of storytelling."Kirkus Reviews