Brown Dog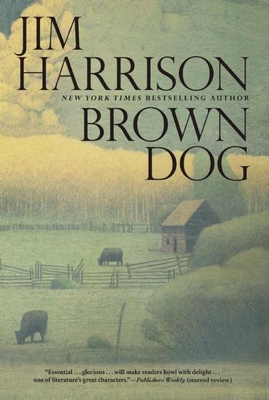 Brown Dog
Novellas
Grove Press, Hardcover, 9780802120113, 525pp.
Publication Date: December 2013
* Individual store prices may vary.
Shop Local
Enter your zip code below to find indies closest to you.
Description
Among the most indelible American novelists of the last hundred years. . . . [Harrison] remains at the height of his powers."Dwight Garner, The New York Times on The River Swimmer

New York Times best-selling author Jim Harrison is one of America's most beloved writers, and of all his creations, Brown Dog, a bawdy, reckless, down-on-his-luck Michigan Indian, has earned cult status with readers in the more than two decades since his first appearance. For the first time, Brown Dog gathers all the Brown Dog novellas, including one never-published one, into one volumethe ideal introduction (or reintroduction) to Harrison's irresistible Everyman.

In these novellas, BD rescues the preserved body of an Indian from Lake Superior's cold waters; overindulges in food, drink, and women while just scraping by in Michigan's Upper Peninsula; wanders Los Angeles in search of an ersatz Native activist who stole his bearskin; adopts two Native children; and flees the authorities, then returns across the Canadian border aboard an Indian rock band's tour bus. The collection culminates with He Dog, never before published, which finds BD marginally employed and still looking for love (or sometimes just a few beers and a roll in the hay), as he goes on a road trip from Michigan to Montana and back, arriving home to the prospect of family stability and, perhaps, a chance at redemption.

Brown Dog underscores Harrison's place as one of America's most irrepressible writers, and one of the finest practitioners of the novella form.

Praise for Jim Harrison's Brown Dog:

There is broad comedy in the writing, but also tenderness, and never a moment when the reader isn't rooting for Brown Dog to get it right. . . . We would all be the poorer if deprived of Jim Harrison's first-rate stories."The New York Times Book Review on The Summer He Didn't Die

Brown Dog, an old friend to fans of Harrison, . . . boasts the rare ability to reject the frills and artificial complexities of modern life and keep to the basics. . . . Like reading a book describing dear friends."Miami Herald on The Farmer's Daughter

A 21st-century version of Huck Finn."The Charleston Gazette on The Farmer's Daughter
About the Author
Jim Harrison is a program manager on the Microsoft Forefront Edge Security Team who also designs integrated security solutions for Microsoft extranets and intranets. He is the coauthor of Microsoft's Forefront Community Page "Tales from the Edge." Jim is a former tester on the Microsoft ISA Server Sustained Engineering Team, and prior to that, served as an electronics technician for the US Navy.