Over Time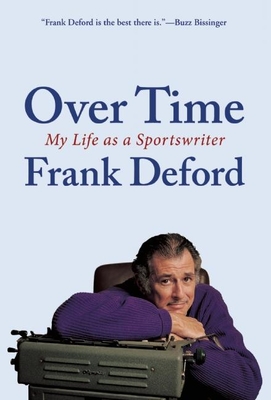 Over Time
My Life as a Sportswriter
Atlantic Monthly Press, Hardcover, 9780802120151, 354pp.
Publication Date: May 1, 2012
* Individual store prices may vary.
Buy at Local Store
Enter your zip code below to purchase from an indie close to you.
or
Not Currently Available for Direct Purchase
Description
"Over Time: My Life as a Sportswriter" is as unconventional and wide-ranging as Frank Deford's remarkable career, in which he has chronicled the heroes and the characters of just about every sport in nearly every medium. Deford joined "Sports Illustrated" in 1962, fresh, and fresh out of Princeton. In 1990, he was Editor-in-Chief of "The National Sports Daily," one of the most ambitiousand ill-fatedprojects in the history of American print journalism. But then, he's endured: writing ten novels, winning an Emmy (not to mention being a fabled Lite Beer All-Star), and last week he read something like his fourteen-hundredth commentary on NPR's Morning Edition.
From the Mad Men-like days of "SI" in the 60s, and the bush years of the early NBA, to Deford's visit to apartheid South Africa with Arthur Ashe, and his friend's brave and tragic death, "Over Time" is packed with intriguing people and stories. Interwoven through his personal history, Deford lovingly traces the entire arc of American sportswriting from the lurid early days of the Police Gazette, through Grantland Rice and Red Smith and on up to ESPN. This is a wonderful, inspired bookequal parts funny and touchinga treasure for sports fans. Just like Frank Deford.

About the Author
Frank Deford is a six-time National Sportswriter of the Year, Senior Contributing Editor at Sports Illustrated, commentator on NPR's Morning Edition and a correspondent on the HBO show RealSports with Bryant Gumbel. In addition to being the author of more than a
dozen books, he has been elected to the Hall of Fame of the National Association of Sportscasters and Sportswriters and has been awarded both an Emmy and a Peabody. Two of his books, Everybody's All-American and Alex: The Life of a Child, a memoir about his daughter who died of cystic fibrosis, have been made into movies. Sporting News describes Deford as "the most influential sports voice among members of the print media" and GQ simply calls him "the world's greatest sportswriter." Deford resides in Connecticut with his wife, Carol.
Praise For Over Time…
Equal doses of self-deprecating humor and anecdotal history of American sports journalism are the essence of Frank Deford's entertaining new memoir."Chicago Tribune

Deford is the Holy Grail. He's simply one of the greatest sportswriters of all time. ... [Over Time] has a little bit of everything -- great stories about interviewing everyone from Richard Nixon to Jerry Jones. Deford played with the Harlem Globetrotters, introduced the world to Bill Bradley, really disliked Rodney Dangerfield, edited the only national sports daily in our history (The National), and has great takes on the history and characters of Sports Illustrated in its formative years. . . . Deford's the best."Peter King, SI.com

"Deford's cred is incredible, his accolades deserved... He does not pull a punch when it comes to boxing or even to the tastes-great, less-filling Miller Lite commercials he once made... [Deford] has long been the genuine article." Los Angeles Times

He sketches insightful remembrances of stars like Wilt Chamberlain and Billie Jean King and lavishes affection and admiration on Sports Illustrated colleagues Andre Laguerre, Dan Jenkins, and the tortured' writer Mark Kram [Deford is] sports writing's Sinatra." San Francisco Chronicle

Endearing... Over Time imparts a sense of a life well lived and fully enjoyed."The New York Times

"The mixture of homage to sportswriters who came before him, such as Grantland Rice; sometimes wistful vignettes of sports figures like Arthur Ashe; and his own personal reflections on the evolution of sports journalism combine to offer a cultural perspective that transcends a mere job." Publishers Weekly (Top 10 in Sports)

Frank Deford is the best there is. His memoir Over Time is beautiful, funny, poignant and poetic." Buzz Bissinger, author of Friday Night Lights and Father's Day

A wonderful book. Over Time is both a treasure and a treasury."Sally Jenkins, Washington Post columnist and New York Times bestselling author of It's Not About the Bike

Frank Deford is the best sportswriter I've ever read. If there's a Mount Rushmore of sportswriting, Deford is up there, purple ties and all."Tony Kornheiser