Sarah Thornhill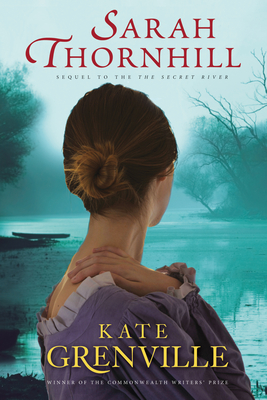 Sarah Thornhill
Grove Press, Hardcover, 9780802120243, 307pp.
Publication Date: June 5, 2012
* Individual store prices may vary.
Not Currently Available for Direct Purchase
or
Shop Local
Enter your zip code below to purchase from an indie close to you.
Description
In the final book of a trilogy that began with her bestselling novel, "The Secret River," Commonwealth Prizewinner Kate Grenville returns to the youngest daughter of the Thornhills and her quest to uncover, at her peril, the family's hidden legacy.
Sarah is the youngest child of William Thornhill, the pioneer at the center of "The Secret River." Unknown to her, her fatheran uneducated ex-convict from Londonhas built his fortune on the blood of Aboriginal people. With a fine stone house and plenty of money, Thornhill has re-invented himself. As he tells his daughter, he never looks back, and Sarah grows up learning not to ask about the past. Instead her eyes are on handsome Jack Langland, whom she's loved since she was a child. Their romance seems destined, but the ugly secret in Sarah's family is poised to ambush them both.
As she did with" The Secret River," Grenville once again digs into her own family history to tell a story about the past that still resonates today. Driven by the captivating voice of the illiterate Sarahat once headstrong, sympathetic, curious, and refreshingly honestthis is an unforgettable portrait of a passionate woman caught up in a historical moment of astonishing turmoil.
About the Author
KATE GRENVILLE was born in Sydney, Australia. Her bestselling novel The Secret River has won numerous international awards, including the Commonwealth Writers Prize for Best Book. It was also a finalist for the Man Booker Prize and the Miles Franklin Award. The Idea of Perfection won the Orange Prize for Fiction, Britain s most valuable literary award. Grenville is also the author of several other novels and three books on the craft of writing. She lives in Sydney with her family. Visit her online at kategrenville.com.
Praise For Sarah Thornhill…
Winner of the Australia General Fiction Book the Year Award (Sydney Writers' Festival)
Short-listed for the Prime Minister's Literary Award for Fiction


"Both brilliant fiction and illuminating personal history."The Independent

It is with often marvelous vividness and clarity that Grenville evokes Sarah's world. . . . Through the eyes of this young woman, the physical and cultural strangeness of a nation still clambering into existence spring richly to life."The Guardian

"Grenville's Early Australia trilogy comes to a brilliant conclusion. . . . Lovingly detailed . . . Full of fascinating characters."Booklist

Sarah Thornhill displays [Grenville's] gift for creating character full blaze. . . . A great work of truth . . . What unfolds is a box of surprises, richly wrapped in language so colorful and lively, you can taste it. . . . You believe in [Sarah's] honesty, her perceptiveness, her way of reading' others. . . . A wonderful novel."The Scotsman

"I was thrilled to find myself back beside the river I'd come to know so well in The Secret River. The power with which Kate Grenville evokes places and people is so remarkable that I could remember the smell of the air thereand it was no surprise to discover that Sarah Thornhill's story is as gripping and illuminating as her father's was."Diana Athill

Grenville's extraordinary trilogy is a major achievement in Australian literature."Australian Book Review

A moving piece of fiction . . . Powerfully realized . . . Sarah Thornhill is the book of a writer of the first rank. . . . A haunting performance."The Age (Australia)

[A] powerful saga of colliding histories [that] blends romance and honesty."The Independent (Ireland)

A beguiling love story . . . The voice of illiterate Sarah is Grenville's great triumph. . . . An imaginatively convincing recreation of history and a celebration of country tenderly and beautifully observed, but above all it is a powerful plea for due acknowledgement and remembrance of the veils of the past."Adelaide Advertiser

Revisits the fascinating, trouble territory of the history wars. . . . Grenville's vivid fiction performs as testimony, memory, and mourning within the collective post-colonial narrative."The Australian

This is a beautiful book, one that pulses with insight and compassion . . . Grenville's descriptions are a delicate fretwork of words. . . . Not only is Sarah Thornhill gorgeously written, but the love story at its heart is as real and true as it is unexpected. This is a novel that will be treasured by generations to come. It is that rare book that manages to wholly engage both head and heart. Grenville has done a splendid job."The Canberra Times

"Grenville's great strength is her sensual fleshing-out of the past. . . . Her vision of our colonial history is at once compelling and fable-like, as she writes contemporary white self-knowledge back into it." The Monthly (Australia)

"[A] captivating tale of a woman's fight to find an identity of her own in a 'new' colony. [Grenville's] wonderful account shows how hard it can be simply to be yourself. . . . A deeply moving conclusion to a romantic but by no means sentimental story."The Telegraph

[A] beautifully crafted historical re-imagining."New Zealand Listener

A strong and disturbing narrative."Sydney Morning Herald