Junky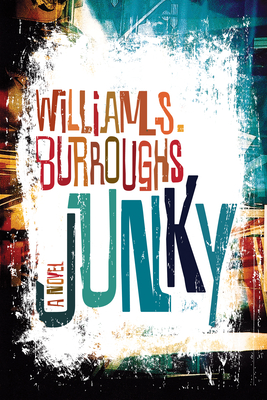 Junky
The Definitive Text of "Junk"
Grove Press, Paperback, 9780802120427, 197pp.
Publication Date: November 2012
* Individual store prices may vary.
Shop Local
Enter your zip code below to find indies closest to you.
Description
"Junk is not, like alcohol or a weed, a means to increased enjoyment of life. Junk is not a kick. It is a way of life."
In his debut novel, "Junky," Burroughs fictionalized his experiences using and peddling heroin and other drugs in the 1950s into a work that reads like a field report from the underworld of post-war America. The Burroughs-like protagonist of the novel, Bill Lee, see-saws between periods of addiction and rehab, using a panoply of substances including heroin, cocaine, marijuana, paregoric (a weak tincture of opium) and goof balls (barbiturate), amongst others. For this definitive edition, renowned Burroughs scholar Oliver Harris has gone back to archival typescripts to re-created the author's original text word by word. From the tenements of New York to the queer bars of New Orleans, "Junky" takes the reader into a world at once long-forgotten and still with us today. Burroughs's first novel is a cult classic and a critical part of his oeuvre.

About the Author
Born in 1914 to a wealthy family in St. Louis, Missouri, William S. Burroughs was one of the most significant people in twentieth-century American popular culture and literature. A novelist, poet, and essayist, he was a primary member of the Beat Generation, influential upon such writers as Jack Kerouac and Allen Ginsberg. Burroughs was the author of eighteen novels and novellas, six collections of short stories, and four collections of essays, among them the 1959 classic Naked Lunch. After living in Mexico City, Tangier, Paris, and London, Burroughs finally returned to America in 1974. He died at his home in Lawrence, Kansas, in 1997.
Bill Morgan is a writer and archival consultant. His previous books include The Typewriter Is Holy: The Complete, Uncensored History of the Beat Generation; I Celebrate Myself: The Somewhat Private Life of Allen Ginsberg; and Beat Atlas: A State by State Guide to the Beat Generation in America. He has edited several collections of letters by Beat writers such as Jack Kerouac, Allen Ginsberg, Gregory Corso, and Gary Snyder. Morgan has worked as the archivist of many writers, including Lawrence Ferlinghetti, Allen Ginsberg, Oliver Sacks, Michael McClure, Abbie Hoffman, and Arthur Miller. He currently lives with his wife in an old farmhouse at the base of a Vermont mountain.
Oliver Harris has an MA in creative writing from the University of East Anglia, in addition to degrees in English and Shakespeare studies, and recently received his PhD. His first novel, The Hollow Man, launched the Detective Nick Belsey series. He also reviews for the Times Literary Supplement. He lives in London.
Praise For Junky…
Praise for William Burroughs:

Burroughs voice is hard, derisive, inventive, free, funny, serious, poetic, indelibly American."Joan Didion

A creator of grim fairy tales for adults, Burroughs spoke to our nightmare fears and, still worse, to our nightmare longings. . . . And more than any other postwar wordsmith, he bridged generations; popularity in the youth culture is greater now than during the heady days of the Beats."Douglas Brinkley, The Los Angeles Times Book Review

The most important writer to emerge since World War II. . . . For his sheer visionary power, and for his humor, I admire Burroughs more than any living writer, and most of those who are dead."J.G. Ballard

William was a Shootist. He shot like he wrotewith extreme precision and no fear."Hunter S. Thompson

A book of great beauty . . . . Burroughs is the only American novelist living today who may conceivably be possessed by genius."Norman Mailer on Naked Lunch

Burroughs seems to revel in a new medium . . . a medium totally fantastic, spaceless, timeless, in which the normal sentence is fractured, the cosmic tries to push its way through the bawdry, and the author shakes the reader as a dog shakes a rat."Anthony Burgess on The Ticket That Exploded

Of all the Beat Generation writers, William S. Burroughs was the most dangerous. . . . He was anarchy's double agent, an implacable enemy of conformity and of all agencies of control-from government to opiates."Rolling Stone

In Burroughs' hands, writing reverts to acts of magic, as though he were making some enormous infernal encyclopedia of all the black impulses and acts that, once made, would shut the fiends away forever." The New York Times on The Wild Boys