The Fall of the Stone City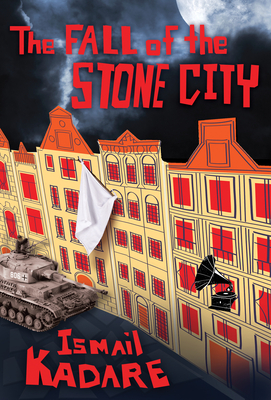 The Fall of the Stone City
Grove Press, Hardcover, 9780802120687, 171pp.
Publication Date: January 29, 2013
* Individual store prices may vary.
Buy at Local Store
Enter your zip code below to purchase from an indie close to you.
or
Buy Here
Description
It is 1943, and the Second World War is ravaging Europe. Mussolini decides to pull out of his alliance with the Nazis, and withdraws the Italian troops occupying Albania. Soon after, Nazi forces invade Albania from occupied Greece. The first settlement in their path is the ancient stone city of Gjirokastër, an Albanian stronghold since the fourteenth century. The townsfolk have no choice but to surrender to the Nazis, but are confused when they see that one of the town's residents, a certain Dr. Gurameto, seems to be showing the invading Nazi Colonel great hospitality. That evening, strains of Schubert from the doctor's gramophone waft out into the cobbled streets of the city, and the sounds of a dinner party are heard. The sudden disappearance of the Nazis the next morning leaves the town wondering if they might have dreamt the events of the previous night. But as Albania moves into a period of occupation by the Nazis, and then is taken over by the communists, Dr. Gurameto is forced to answer for what happened on the evening of the Nazi's invasion, and finally explain the events of that long, strange night.

Dealing with themes of resistance in a dictatorship, and steeped in Albanian folklore and legend, The Fall of the Stone City shows Kadare at the height of his powers.
About the Author
Ismail Kadare est ne en 1936 a Gjirokaster, dans le sud de l Albanie.Il paracheve a Moscou, a l'institut Gorki, pepiniere d'auteurs et de critiques, des etudes commencees a la faculte des Lettres de Tirana.De retour dans son pays apres la rupture avec l'Union sovietique (1960), il se lance dans le journalisme et publie simultanement ses premiers poemes. II ecrit ensuite une nouvelle, qu'il remanie plusieurs fois, et qui finira par devenir son premier roman publie, "Le General de l'armee morte", celui aussi qui le fera connaitre en Albanie.Il devient alors " ecrivain a temps complet ." Parallelement, il dirige la revue litteraire "Les Lettres albanaises" (publiee simultanement en francais).Ayant rompu avec le regime de Tirana, Ismail Kadare obtientl'asile politique en France en octobre 1990.Depuis quelques annees, il vit entre la France et l'Albanie.
Son 1/2uvre, publiee aux Editions Fayard, est composee de romans, de recits, de recueils de nouvelles, d'un recueil de poesie et d'une piece de theatre.Sont aussi parus les douze volumes de ses "1/4uvres completes".Ismail Kadare est considere depuis quelques annees comme l'un des plus grands ecrivains de notre temps. Son 1/2uvre est traduite dans une quarantaine de pays.
Distinctions
Ismail Kadare a ete elu membre associe etranger de l'Academie des Sciences morales et politiques au siege de Karl Popper en 1996.Il a recu, en 1993, le prix Mediterranee-Etranger pour "La Pyramide".Il s'est vu decerner, en juin 2005, le Man Booker International Prize parmi une selection d'ecrivains mondialement celebres, parmi lesquels Saul Bellow, Gabriel Garcia Marquez, Gunter Grass, Milan Kundera, Naguib Mahfouz et Kenzaburo Oe.Il a recu, en 2009, le prix Prince des Asturies des Lettres pour l ensemble de son 1/2uvre.
(c) Photo: J. Foley / OPALE / Editions Fayard
John Hodgson is Professor Emeritus of Pastoral Science, Massey University, New Zealand.
Praise For The Fall of the Stone City…
Shortlisted for The Independent Foreign Fiction Prize

An incisve, biting work. . . . [The Fall of the Stone City] refines our understanding of satire's nature. . . . If you don't know [Kadare's] work, this is a good place to begin. I hope you won't stop here."NPR

"What's most interesting apart from Kadare's use of folk tales and dreams is [The Fall of the Stone City's] gender politics. . . . Like an unreconstructed Freudian, Kadare is fascinated by how men use ideological structures as proxy mechanisms to shore up their masculinity and carry out dominion over others. . . . Kadare's skill as a storyteller [is] that he renders conventional wisdom with the force of a childhood trauma."New York Times Book Review

The town's quirks, destiny, and characterscomic, extravagant, and all but floating an inch or two off the groundare in some ways reminiscent of Gabriel Garcia Marquez. . . . After a first part centering around a cheerfully extravagant wartime story, cracks develop; a hallucinatory crumbling ensues and descends into tightening nightmare. . . . the nexus between totalitarianism and madness is twisted tight. . . . The novel starts in the blithe wackiness of a place where gossip and rumor play the role that facts might anywhere else." The Boston Globe

Complex and exacting."The Wall Street Journal

Kadare's books reflect his country and are imbued with Albanian myths and metaphors. The book gives both the sense and essence of a totalitarian state in language that, while straightforward, is literary and often allegorical. . . . The Fall of the Stone City is a strong addition to Kadare's body of translated work and which further demonstrates that he is deserving of wider acclaim and readership."Seattle Post-Intelligencer

Mesmerizing. . . A well-crafted translation of a European masterpiece."Booklist (starred review)

"A harsh but artful study of power, truth and personal integrity... [The Fall of the Stone City is] an ironic, sober critique of the way totalitarianism rewrites history, from an Albanian author who's long been the subject of Nobel whispers."Kirkus Reviews

A dreamworld where history and fiction come together . . . Ismail Kadare's subject, as always, is the presence of the past. . . . more astonishing and truthful than any mere documentary chronicle."The Guardian

The prose frequently evokes Albania's rich tradition of folklore. . . This is classic Postmodern fiction; literature which tells us that we can never be sure about the past. . . . The Fall of the Stone City is a masterly recuperation; an outstanding feat of imagination delivered in inimitable style, alternating between the darkly elusive and the menacingly playful."The Independent on Sunday

In his latest novel, Kadare features many of his motifsbloody Balkan histories; bleak totalitarianism lives under silky threads of magical realismthat have made him a perpetual shortlister for Noble Prize laureate. A thoughtful exploration of the colluding forces of fascism and communism and a country caught between them that is at once obscure and enigmatic, lucid and insistent."Publishers Weekly

Kadare was awarded the inaugural International Man Booker prize in 2005, and in this disorienting, absorbing, Kafkaesque novel his skill is clearly evident as he conjures the city's nervy mood. Plot advances obliquely through a whirl of rumors to the doctor's horrifying final act. A masterful performance."Daily Mail

The Fall of the Stone City is playful, supremely sarcastic, mystifying, charming and bleak, by turns and all at once. Kadare raises ambiguity to an art form, and perfectly evokes the uncertainties of life under arbitrary rule." The New Zealand Herald

This wonderful little novel, by the intriguing Albanian master Ismail Kadare, opens in September 1943. . . as witty and as dark as is everything he has written in a magnificent career. . . . The Fall of the Stone City is written with a persuasive lightness of touch. Kadare's authorial tone is invariably ironic and his fiction is playful, as if he has never lost sight of exactly how ridiculous humankind tends to be."The Irish Times