Here I Am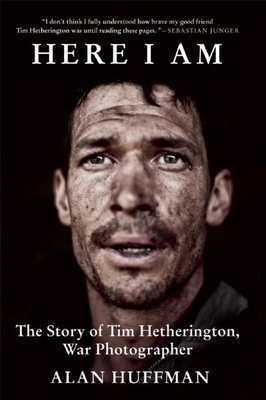 Here I Am
The Story of Tim Hetherington, War Photographer
Grove Press, Hardcover, 9780802120908, 256pp.
Publication Date: March 12, 2013
* Individual store prices may vary.
Not Currently Available for Direct Purchase
or
Shop Local
Enter your zip code below to purchase from an indie close to you.
Description
Tim Hetherington (1970-2011) was one of the world's most distinguished and dedicated photojournalists, whose career was tragically cut short when he died in a mortar blast while covering the Libyan Civil War. Tim won many awards for his war reporting, and was nominated for an Academy Award for the critically acclaimed documentary, "Restrepo." Hetherington's dedication to his career led him time after time into war zones, and unlike some other journalists, he did not pack up after the story had broken.
In "Here I Am," journalist and freelance writer Alan Huffman tells Hetherington's life story, and through it analyzes what it means to be a war reporter in the twenty-first century. Huffman recounts Hetherington's life from his first interests in photography, through his critical role in reporting the Liberian Civil War, to his tragic death in Libya. Huffman also traces Hetherington's photographic milestones, from his iconic and prize-winning photographs of Liberian children, to the celebrated portraits of sleeping U.S. soldiers in Afghanistan. "Here I Am" explores the risks, challenges, and thrills of war reporting, and is a testament to the unique work of people like Hetherington, who risk their lives to give a voice to people ravaged by war.

About the Author
A partner in the political research firm Huffman & Rejebian, Alan Huffman has been a farmer; newspaper reporter; and aide to a Mississippi attorney general and a Mississippi governor. A contributor to the Atlanta Journal-Constitution, the New York Times, Smithsonian magazine and other publications, he is the author of Ten Point, Mississippi in Africa and Sultana.
Praise For Here I Am…
I don't think I fully understood how brave my good friend Tim Hetherington was until reading these pages. Not only does Huffman bring Tim back to life his brilliant work, his extraordinary vision but he also leads us through some of the most harrowing combat of our generation. His description of the siege of Misrata should be read by anyone who imagines they understand war or courage, or fear. For all my time as a war reporter, I don't think I fully understood those things until reading Huffman's incredible book."Sebastian Junger

[Huffman] investigates not only the significant life of his subject, whom he admires greatly, but also the craft of the war photographer and the tensions and contradictions involved . . . Huffman excels at heightening the drama, depicting the rapid-fire action and constant danger of working among soldiers and guerrillas engaged in battle."The Boston Globe

Huffman looks at what it means to be a war reporter in the 21st century through the lens of the iconic Hetherington's life, looking at his early workprize-winning photographs of Liberian childrento his Oscar-nominated documentary Restrepo" . . . to the mortar blast in Libya that cut his life short."New York Post (Required Reading)

[Here I Am] captures the unflinching life of war photographer Tim Hetherington. . . . Huffman re-creates the suspense of battle, the tension between competing photographers who, by nature, are judgmental of one another's approach to depicting war; he builds detailed characters of Libyan ambulance drivers, fighters, and commanders as successfully as he depicts the contentious clique of photographers."Lynsey Addario, Daily Beast

Huffman vividly chronicles the short life of a man drawn to danger zones to capture the horrors of modern warfare."Los Angeles Times

A powerfully written biography . . . titled Here I Am in reference to a moment that Hetherington finds himself in his own viewfinder, reflected back in a mirror. This is poignant imagery and metaphor for the entire body of this extraordinary artist and humanist's life."Huffington Post

Celebrate[s] Tim Hetherington's life . . . recount[s] his last days in Libya in excruciating detail."TIME

Huffman takes readers into the midst of some dangerous and gruesome battle zones that Hetherington recorded. The book is part biography and part war chronicle, but it is also a skillfully constructed eulogy, in which Huffman allows many of Hetherington's friends and colleagues to reminisce about a fallen comrade. . . . By deftly combining such personal memories with vivid descriptions of battle zones, Huffman makes Here I Am a must-read as a uniquely constructed memoriam."Winnipeg Free Press

Huffman recounts Hetherington's career in chapters that expand on the many conflicts the photographer covered: The Liberian civil war; the genocide in Sudan. . . the American occupation of Afghanistan. . . and succeeds in immersing us in Hetherington's daily reality while in conflict zones. . . . Many excellent interviews with friends and colleagues add a personal dimension to the photographer's extraordinary life."The Columbia Journalism Review

The biographer wanted closure not only for himself and his book, but also for Hetherington's loved onesand especially for future war photojournalists who would look back and look up to Hetherington. . . . A tribute. Fortunately for readers, though, it is not undiluted hagiography."Cleveland Plain Dealer

Huffman recounts the career arc of British-born and -educated Hetherington while simultaneously providing insights into the mentality of war photographers during the past century. . . . A first-rate biographical portrait that also deserves accolades for its insights into the minds of adventure-seeking photographers."Kirkus Reviews

Huffman's biography crackles with the authenticity of his own experiences in Liberia and interviews with Hetherington and his colleagues . . . An in-depth, intense chronicle."Shelf Awareness

Compelling . . . Huffman details Hetherington's early career, friendships, and experiences with rebels in Africa, and influences and aesthetic struggles. . . and offers perspectives from firsthand sources to unveil the heroism and errors of his final days."Publishers Weekly

From American journalist Alan Huffman comes Here I Am. . . a biography about the photojournalist famous for his iconic photos of U.S. soldiers in Afghanistan, who was killed in 2011 by a mortar blast during the Libyan civil war."Quill & Quire (Spring Preview 2013)

Huffman details the life of a man who wasn't satisfied to record images but wanted to understand the causes behind the war, the histories of conflict, and the individualsmany, adolescentscaught in the horror and drama of war. Through Hetherington's extraordinary life, Huffman explores a dangerous profession and how one man pursued it with his own personal twist."Booklist

A tale worth telling, a look into a world of violence and chaos few could understand."The Jackson Clarion-Ledger

[Huffman is] at his riveting best in his description of the battle for Misrata, which puts the reader as close as most of us ever want to get to the absolute hell of chaotic urban war."Pasatiempo

I was happy to see news of a book about Hetherington; I was even happier that Huffman was writing it. The man can write. . . . Huffman could have written a fine book about war, but in Here I Am he's done something a little more complicatedhe's captured and communicated how Tim Hetherington saw war."Lemuria Bookstore Blog