The Finish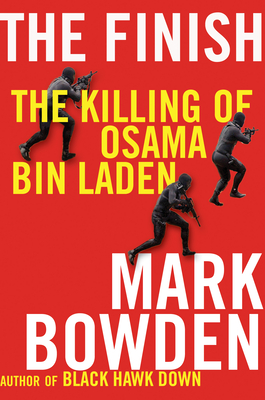 The Finish
The Killing of Osama Bin Laden
Grove Press, Paperback, 9780802121523, 276pp.
Publication Date: June 11, 2013
* Individual store prices may vary.
Buy at Local Store
Enter your zip code below to purchase from an indie close to you.
or
Buy Here
Description
From Mark Bowden, the preeminent chronicler of our military and special forces, comes "The Finish," a gripping account of the hunt for Osama bin Laden. With access to key sources, Bowden takes us inside the rooms where decisions were made and on the ground where the action unfolded.
After masterminding the attacks of September 11, 2001, Osama bin Laden managed to vanish. Over the next ten years, as Bowden shows, America found that its war with al Qaedaa scattered group of individuals who were almost impossible to trackdemanded an innovative approach. Step by step, Bowden describes the development of a new tactical strategy to fight this warthe fusion of intel from various agencies and on-the-ground special ops. After thousands of special forces missions in Iraq and Afghanistan, the right weapon to go after bin Laden had finally evolved. By Spring 2011, intelligence pointed to a compound in Abbottabad; it was estimated that there was a 50/50 chance that Osama was there. Bowden shows how three strategies were mooted: a drone strike, a precision bombing, or an assault by Navy SEALs. In the end, the President had to make the final decision. It was time for the finish.
About the Author
Mark Bowden is a noted body language expert, master of non-verbal and verbal communication, and a leader in the techniques of influence. The creator of TruthPlane, a unique model of training for anyone who has to communicate to an audience, his techniques are used now by top executives and political leaders across the globe. Mark gained his university degree in performance in the UK, and studied the gesture control methods of Jacques Lecoq's Laboratory of Movement, Paris; he has worked with leading practitioners of movement psychology and built upon the influence techniques of Dr. Milton Erickson. He holds a reputation as one of the UK's expert performance trainers, lecturing on performance at Drama Academies and Universities throughout the UK and across the world including RADA, Oxford and Cambridge; he is a highly sought after trainer in business communication at Canadian Universities including McGill, and international top ten business school Schulich at York. His client list of leading business people and politicians currently includes presidents and CEO's of fortune 50 companies and a G8 Prime Minister.