O, What a Luxury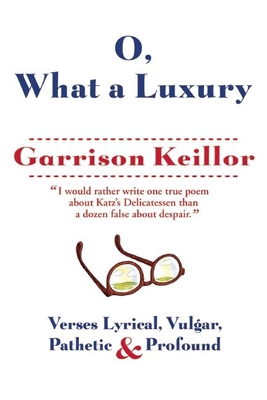 O, What a Luxury
Verses Lyrical, Vulgar, Pathetic & Profound
Grove Press, Hardcover, 9780802121615, 170pp.
Publication Date: October 2013
* Individual store prices may vary.
Shop Local
Enter your zip code below to find indies closest to you.
Description
O What a Luxury: Verses Lyrical, Vulgar, Pathetic & Profound is the first poetry collection written by Garrison Keillor, the celebrated radio host of A Prairie Home Companion. Although he has edited several anthologies of his favorite poems, this volume forges a new path for him, as a poet of light verse. He writeswith his characteristic combination of humor and insighton love, modernity, nostalgia, politics, religion, and other facets of daily life. Keillor's verses are charming and playful, locating sublime song within the humdrum of being human.
About the Author
GARRISON KEILLOR is America s favorite storyteller. For more than 35 years, as the host of "A Prairie Home Companion", he has captivated millions of listeners with his weekly News from Lake Wobegon monologues. "A Prairie Home Companion" is heard on hundreds of public radio stations, as well as America One, the Armed Forces Networks, Sirius Satellite Radio, and via a live audio webcast.Keillor is also the author of several books and a frequent contributor to national publications including "Time, The New Yorker, "and "National Geographic", in addition to writing his own syndicated column. He has been awarded a National Humanities Medal from the National Endowment of the Humanities. When not touring, he resides in St. Paul, Minnesota.
Praise For O, What a Luxury…
Praise for Garrison Keillor:

"Keillor is very clearly a genius. His range and stamina alone are incredible . . . he has the genuine wisdom of a Cosby or Mark Twain." Slate

"America's foremost humorist and social pundit . . . Keillor's running commentary about the human condition has the uncanny ability to home in on the pulse of America." PBS

"Keillor has a way of reconciling seeming contradictions. A purveyor of all things folksy and down-home, he is a highly cultivated, worldly man." AARP