Beethoven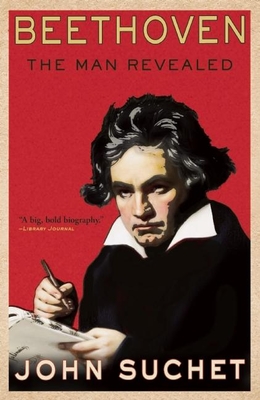 Beethoven
The Man Revealed
Atlantic Monthly Press, Hardcover, 9780802122063, 389pp.
Publication Date: December 10, 2013
* Individual store prices may vary.
Buy at Local Store
Enter your zip code below to purchase from an indie close to you.
or
Not Currently Available for Direct Purchase
Description
Ludwig van Beethoven remains one of the world's best loved and most influential composers, the creator of such magisterial works as the 'Eroica,' the famous Fifth Symphony, and the 'Emperor' Piano Concerto, yet also smaller, more intimate pieces like the 'Moonlight' Sonata, and 'Für Elise.' But few know much of Beethoven's tumultuous personal life, beyond the fact that he is the composer who became deaf.

Beethoven scholar John Suchet has had a lifelong passion for the man and his music. In this book, he illuminates Beethoven's difficult childhood, his struggle to find a wife, his ungovernable temper, his emotional volatility, his tendency to push away those trying to help him, and in middle age his obsessive compulsion to control his nephew's life. In this detailed and absorbing biography, Suchet argues that it is perhaps more true of Beethoven than of any other composer, that if you know what was going on in his life, you listen to his music through different ears.

Beethoven is a full and comprehensive account of a momentous life that takes the reader on an extraordinary journey, from the composer's birth in Bonn to his death in Vienna. Beethoven scholarship is constantly evolving, and Suchet draws on the latest research, as well as using source material (some of which has never before been published in English), to paint the fullest picture yet created of the greatest composer who ever lived.
About the Author
John Suchet is a British newsreader and television presenter. Most famous for being a newsreader for ITV News, John worked for the channel for 32 years, between 1972 and 2004.
He retired from ITN in 2004, but made a welcome return to TV news in 2006, presenting Five News.
In February 2009 John appeared on BBC Breakfast to talk about Bonnie's dementia and to raise awareness for the disease and the charities supporting it.
He is now the patron of For Dementia.
Praise For Beethoven…
"I have loved and performed Beethoven since I was very young and have read a good deal about the life and times of this giant among composers, but John Suchet's infectious enthusiasm and fascination, probing the details behind every step of his life, and turning sensitive sleuth when the facts are less clear, opens new vistas and makes for a gripping and thought-provoking read. Howard Shelley, Pianist and Conductor

"John Suchet offers us a fascinating and touchingly human insight into a great figure who has consumed him for decades. By exercising a genuine authority in identifying how Beethoven, the man, manifests himself in our appreciation of the music, Suchet brings an incisive freshness to an extraordinary life. The results in his 'Beethovenia' are always rigorously researched and accompanied by a child-like passion to communicate the composer's true essence." Jonathan Freeman-Attwood, Principal of the Royal Academy of Music

"Beethoven's music continues to form one of the cornerstones of the concert repertoire some 200 years after it was written, and its sheer ingenuity and inventiveness never cease to amaze the perceptive listener. Knowing the context in which it was written can aid our understanding of the music, and every biography of Beethoven's unusual life has something new to say. Although some aspects of his life, such as his deafness, and his great love for his only nephew, are well known, this book also includes many details that are less familiar. John Suchet writes with infectious enthusiasm, and his avoidance of technical detail makes this a biography that can be read and understood by anyone interested in the composer." Professor Barry Cooper, University of Manchester