The Golden Egg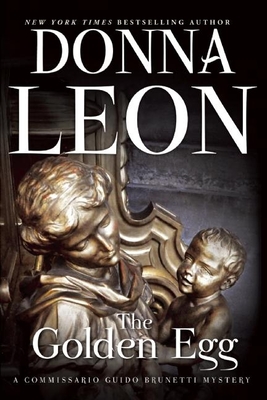 The Golden Egg
Grove Press, Paperback, 9780802122421, 276pp.
Publication Date: March 11, 2014
* Individual store prices may vary.
Buy Now
or
Shop Local
Enter your zip code below to purchase from an indie close to you.
Description
Over the years, Donna Leon's best-selling Commissario Guido Brunetti series has conquered the hearts of lovers of finely-plotted character-driven mysteries all over the world. Brunetti, both a perceptive sleuth and a principled family man, has exposed readers to Venice in all its aspects: its history, beauty, architecture, seasons, food, and social life, but also the crime and corruption that seethe below the surface of "La Serenissima."
In "The Golden Egg," as the first leaves of autumn begin to fall, Commissario Guido Brunetti's wife Paola comes to him with a request. The mentally handicapped man who worked at their dry clearers has suffered a fatal sleeping pill overdose, and Paola loathes the idea that he lived and died without anyone noticing or helping him. To please her, Brunetti investigates the death and is surprised to find nothing on the man: no birth certificate, no driver's license, no credit cards. As far as the Italian government is concerned, he never existed. And yet, there is a body. As secrets unravel, Brunetti suspects an aristocratic family might be connected to the case. But why would anyone want this sweet, simple-minded man dead?
About the Author
Donna Leon has written four previous Guido Brunetti novels, Death and Judgment, Dressed for Death, Death in a Strange Country, and Death at La Fenice, which won the Suntory Prize for the best suspense novel of 1991. She teaches English at the University of Maryland extension at a U.S. Air Force base near Venice Italy, where she has lived for over twenty years.
Praise For The Golden Egg…
[An] unusually reflective detective story."Marilyn Stasio, The New York Times Book Review

Appreciative of feminine charms, the deeply uxorious Brunetti amply displays the keen intelligence and wry humor that has endeared this series to so many."Publishers Weekly

[Readers] will savor the pleasures of dialogue as elliptical in its way as Henry James and a retrospective shock when they finally appreciate the import of the tale's unobtrusive opening scene and its sly title."Kirkus Reviews

"Rating: A."Deadly Pleasures