The Accident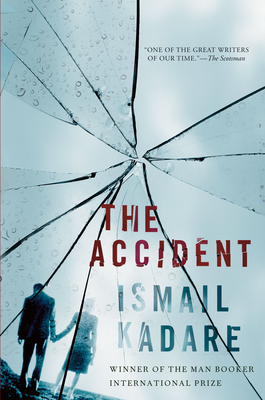 The Accident
Grove Press, Hardcover, 9780802129956, 265pp.
Publication Date: November 2, 2010
* Individual store prices may vary.
Not Currently Available for Direct Purchase
or
Shop Local
Enter your zip code below to purchase from an indie close to you.
Description
From Man Booker International Prize winner Ismail Kadare comes a dizzying psychological thriller of twisted passions, dual identities, and political subterfuge. Set against the tumultuous backdrop of the war in the Balkans, The Accident closely documents an affair between two young lovers.

On a rainy morning in Vienna, a taxi pulls onto the autobahn only to crash into the median barrier moments later, hurling its two passengersa man and a womanfrom the backseat as it spins through the air. The driver cannot explain why he lost control; he only says that the mysterious couple seemed to be about to kiss.

As the investigation into their deaths deepens, a lonely researcher will uncover a mutually destructive relationship that blurs the line between fact and fiction, fear and desire, and love and fixation over the course of twelve years. An alluring mixture of vivid hallucination and cold reality, The Accident is a fever dream of a novel that marks a bold and fascinating departure from Kadare's previous work.
About the Author
Ismail Kadare est ne en 1936 a Gjirokaster, dans le sud de l Albanie.Il paracheve a Moscou, a l'institut Gorki, pepiniere d'auteurs et de critiques, des etudes commencees a la faculte des Lettres de Tirana.De retour dans son pays apres la rupture avec l'Union sovietique (1960), il se lance dans le journalisme et publie simultanement ses premiers poemes. II ecrit ensuite une nouvelle, qu'il remanie plusieurs fois, et qui finira par devenir son premier roman publie, "Le General de l'armee morte", celui aussi qui le fera connaitre en Albanie.Il devient alors " ecrivain a temps complet ." Parallelement, il dirige la revue litteraire "Les Lettres albanaises" (publiee simultanement en francais).Ayant rompu avec le regime de Tirana, Ismail Kadare obtientl'asile politique en France en octobre 1990.Depuis quelques annees, il vit entre la France et l'Albanie.
Son 1/2uvre, publiee aux Editions Fayard, est composee de romans, de recits, de recueils de nouvelles, d'un recueil de poesie et d'une piece de theatre.Sont aussi parus les douze volumes de ses "1/4uvres completes".Ismail Kadare est considere depuis quelques annees comme l'un des plus grands ecrivains de notre temps. Son 1/2uvre est traduite dans une quarantaine de pays.
Distinctions
Ismail Kadare a ete elu membre associe etranger de l'Academie des Sciences morales et politiques au siege de Karl Popper en 1996.Il a recu, en 1993, le prix Mediterranee-Etranger pour "La Pyramide".Il s'est vu decerner, en juin 2005, le Man Booker International Prize parmi une selection d'ecrivains mondialement celebres, parmi lesquels Saul Bellow, Gabriel Garcia Marquez, Gunter Grass, Milan Kundera, Naguib Mahfouz et Kenzaburo Oe.Il a recu, en 2009, le prix Prince des Asturies des Lettres pour l ensemble de son 1/2uvre.
(c) Photo: J. Foley / OPALE / Editions Fayard
John Hodgson is Professor Emeritus of Pastoral Science, Massey University, New Zealand.
Praise For The Accident…
The name of the Albanian novelist Ismail Kadare regularly comes up at Nobel Prize time, and he is still a good bet to win it one of these days. . . . [He] is seemingly incapable of writing a book that fails to be interesting. His new novel, The Accident, is provocative . . . not least because of the way it starts out as one kind of book and turns into something else entirely. This, you feel, is how Kadare sees the world: as a place always shifting and remaking itself. . . . [The Accident] takes you to the sort of place novels don't routinely visit these days."The New York Times

Vivid . . . Kadare dives deep into the pulling currents of love and death, carrying us down with him into a world which ranges, on the one hand, from dirty limericks about Bill Clinton's sexual peccadilloes to profundities about the relation of stories and death. Anyone who has ever suffered through a love affair or wondered about other people caught up in such torments will find this brief novel essential reading."NPR

[The Accident] is spare and often powerful . . . Kadare is inevitably linked to Orwell and Kundera, but he is a far deeper ironist than the first, and a better storyteller than the second. He is a compellingly ironic storyteller because he so brilliantly summons details that explode with symbolic reality. . . . [Kadare] is deeply interested in misreading, yet his prose has a classical clarity, so that much of his power as a storyteller has to do with his ability to provide an extraordinarily lucid analysis of incomprehensibility."The New Yorker

A rich and strange examination of change . . . Kadare has constructed a maze of maybes where opaque motivations lead to startling ramifications . . . turning from realist mystery into surrealist foray. . . . Echoing with literary references, enriched by political relevance, Besfort and Rovena's investigation manages to seem groundbreaking."San Francisco Chronicle

Absorbing . . . In his layering of truth-quests, Kadare, [echoes] the experimental-fiction writers Alain Robbe-Grillet and Jorge Luis Borges. . . . A gripping account of a star-crossed romance."The Wall Street Journal

Kadare's excursions into an eccentric stylemeticulous procedural scenes bloom into the surreal, languid eroticism mingles with the banal, dreams are scrutinized as readily as actual eventsprovide moments both curious and brilliant."Publishers Weekly

Meticulously rendered and subtly nuanced. . . [The Accident] demands the reader's attention as it delves deeper and deeper into tortured love. . . . At once an exploration of human nature and a keen observation of Albanian life in the aftermath of socialist rule. . . . . The text is spare, urgent . . . as compelling as the love affair it documents."The Brooklyn Rail

Dark, dreamlike . . . A provocative exploration of the sinister underside of human relations . . . [and a] compulsive and unnerving excavation of love, power and the imperfect art of storytelling."The Observer

[A] forceful tale . . . Haunting . . . Lean, calm, and footsure, Kadare's writing keeps you reading. . . . With a Milan Kundera-like quality . . . [The Accident] is a compelling performance."Sunday Times (UK)

An author who richly deserves the Nobel Prize."The Huffington Post (Most Anticipated Novels for 2010)

If only most thriller writers could write with Kadare's economy and pace. . . . Kadare, magician that he is, offers just enough information for his readers to make myriad interpretations. He is the most beguiling and teasing of writers who understands that what may not be apparent now may well be in a distant future. As he writes in the final pages of The Accident, From every great secret, hints occasionally leak out.'"The Sunday Herald (Scotland)

A thriller laden with reflections on the abuse of state power. . . . Deftly, Kadare recreates the shadowy atmosphere of rumor and recrimination in Albania during the dying days of communism in the late 1980s."The Evening Standard

[Kadare] has created Kafkaesque fables, nightmarish historical allegories, and his own very distinct mystery."The Guardian Review