The Good Man Jesus and the Scoundrel Christ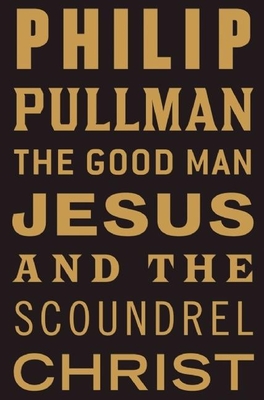 The Good Man Jesus and the Scoundrel Christ
Canongate Books, Hardcover, 9780802129963, 245pp.
Publication Date: May 4, 2010
* Individual store prices may vary.
Buy at Local Store
Enter your zip code below to purchase from an indie close to you.
or
Not Currently Available for Direct Purchase
Description
"The Good Man Jesus and the Scoundrel Christ" is the remarkable new piece of fiction from best-selling and famously atheistic author Philip Pullman. By challenging the events of the gospels, Pullman puts forward his own compelling and plausible version of the life of Jesus, and in so doing, does what all great books do: makes the reader ask questions.
In Pullman's own words, The story I tell comes out of the tension within the dual nature of Jesus Christ, but what I do with it is my responsibility alone. Parts of it read like a novel, parts like history, and parts like a fairy tale; I wanted it to be like that because it is, among other things, a story about how stories become stories.
Written with unstinting authority, "The Good Man Jesus and the Scoundrel Christ" is a pithy, erudite, subtle, and powerful book by a controversial and beloved author. It is a text to be read and reread, studied and unpacked, much like the Good Book itself.

Praise For The Good Man Jesus and the Scoundrel Christ…
Inspiring . . . Again and again, [Pullman] displays a marvelous sense of the elemental power of Jesus's instructions and parables. Even when he transforms the canonical stories to match his atheist perspective, he emphasizes the basic Christian theme of universal love. . . . The action moves toward a conclusion that's inevitable but still startling and moving. Yes, some Christians will be offended by this book . . . but any honest reader will find here a brisk and bracing story of profound implications. And it's bound to send some readers back to the Bible, looking more closely at Jesus's words and especially at all those other words crowded around Him."The Washington Post

[Philip Pullman is] one of the finest British writers of his generation. . . . The attention-grabbing title aloneThe Good Man Jesus and the Scoundrel Christhas been enough to rouse his enemies, and reinforce his image as a church-baiting atheist who's beyond redemption. . . . Yet this isn't the indiscriminate anger of a proselytizing atheist. Pullman is too fair-minded. . . . Love his answers or not, Pullman's honesty is hard to hate."Newsweek

The erudite fantasy author, Philip Pullman, makes explicit his complaint against Christian dogma with [this] challenging deconstruction of the Gospels."
Entertainment Weekly

[With] His Dark Materials, his masterpiece trilogy . . . Pullman has written the most thrilling and imaginative novels in a generation. . . . The Good Man Jesus and the Scoundrel Christ is a masterfully timed book, arriving just as the Catholic ChurchPullman's enemy No. 1convulses over priestly child abuse and papal cover-ups. . . . Give Pullman high marks for moxie: How many writers would dare to try to rewriteno, to repairthe most famous, most sacred story ever written?"Slate

Imaginative and thought-provoking . . . A compelling portrait of Jesus . . . [Pullman] is asking readers to move beyond theology and religion. As a literary work, Pullman's story examines perspective and how it influences storytelling. [He] provides a superb example of how history relies on narrative and narrative relies on point of view. . . . This is, at its core, a book about the power of storytelling and storytellers. . . . The Good Man Jesus and the Scoundrel Christ asks us to read and then to thinkreally thinkabout what we have read, and that is precisely what we all should do."Fort Worth Star-Telegram

Thought-provoking . . . Add to [Pullman's] passion his considerable gifts as a storyteller, and you have the ingredients for a powerful treatment of a familiar story. . . . There is no lack of . . . inventiveness . . . but it is always framed by Pullman's keen awareness of the gospel narratives. He knows just how much of a revered story needs to remain intact in order to make its metamorphosis compelling. . . . Pullman gives us an affecting portrait of faith in extremis, of a man continuing to pray even as he doubts there is any auditor to his prayers."Garret Keizer, Barnes & Noble Reviews

Compelling and challenging . . . The writing is crisp-lyrical . . . precise . . . Successful in showing how all the contradictions of a life can become distorted, so that the most important lessons disappear into history."Jacob Schraer, Portland Mercury

In The Good Man Jesus and the Scoundrel Christ, we have what is both a perfect and perverse pairing: Philip Pullman and the myth' of Jesus Christ."The Globe and Mail

Incendiary . . . A small gem or, given its explosive story and exquisite artistry, a hand grenade made by Faberge. Pullman is a craftsman of the highest order."--Sunday Times

Provokingly bold . . . Pullman's rebel scripture belongs in a strong tradition of its own."The Independent

Pullman is a supreme storyteller who . . . has done the story [of the Gospels] a service by reminding us of its extraordinary power to provoke and disturb."The Telegraph

A wonderfully fresh reworking of the Gospel stories [concerned with] extricating what is ethically beautiful and of permanent value in Jesus's teachings from the religious institutions that fallibly mediate and self-servingly distort them.. . . . Pullman's imaginative and highly thought-provoking innovation . . . is told with a self-effacing, yet incisive limpidity. . . . [The Good Man Jesus and the Scoundrel Christ is] a work of genuine discretiondeeply involved and involving, but with a great instinct for what to leave tacit."The Independent

A simple, powerful, knowing little book . . . Like a small grenade, it will ricochet uncomfortably around the mind of any Christian believer for some time to come."Financial Times

[The Good Man Jesus and the Scoundrel Christ is] Pullman at his very best, limpid and economical. . . . Pullman leaves the Christian reader with a genuine paradox to ponder."The Guardian

Told in simple, unadorned prose that is nonetheless beautifully effective, The Good Man Jesus and the Scoundrel Christ traces the familiar journey toward the cross and makes it fresh. . . . Pullman's retelling of the central story in western civilization provides a brilliant new interpretation that is also a thought-provoking reflection on the process of how stories come into existence and accrue their meanings."Sunday Times

A fast-paced little parable that puts a common sense tweak to a number of the miracles, while reminding us how much of the Gospels is devoted to social justice and compassion."Sacramento News & Review

Short but ambitious, exhilarating . . . [The Good Man Jesus and the Scoundrel Christ] mixes Christian mythology with speculative fiction. . . . Pullman approaches his biblical source material with respect."Winnipeg Free Press

The Good Man Jesus and the Scoundrel Christ is a compassionate meditation on the nature of faith."CBC News (Canada)
Tuesday, May 4, 2010
In his new novel, The Good Man Jesus and the Scoundrel Christ, Pullman, the noted atheist and author of the His Dark Materials trilogy, imagines Jesus as a preacher propped up by his ambitious, less moral twin, Christ. More at NPR.org