Justine, Philosophy in the Bedroom, and Other Writings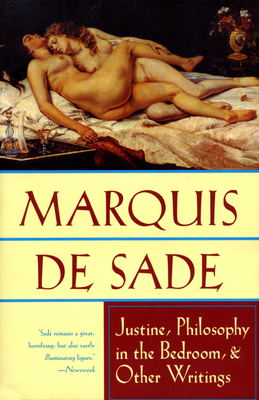 Justine, Philosophy in the Bedroom, and Other Writings
Grove Press, Paperback, 9780802132185, 784pp.
Publication Date: January 11, 1994
* Individual store prices may vary.
Buy at Local Store
Enter your zip code below to purchase from an indie close to you.
or
Buy Here
Description
No other writer has so scandalized proper society as the Marquis de Sade, but despite the deliberate destruction of over three-quarters of his work, Sade remains a major figure in the history of ideas. His influence on some of the greatest minds of the last centuryfrom Baudelaire and Swinburne to Nietzsche, Dostoyevsky and Kafkais indisputable. This volume contains Philosophy in the Bedroom, a major novel that presents the clearest summation of his political philosophy; Eugenie de Franval, a novella widely considered to be a masterpiece of eighteenth-century French literature; and the only authentic and complete American edition of his most famous work, Justine. This literary portrait of Sade is completed by one of his earliest philosophical efforts, Dialogue between a Priest and a Dying Man, a selection of his letters, a fifty-page chronology of his life, two important essays on Sade, and a bibliography of his work.
About the Author
Donatien Alphonse Fran?ois, Marquis de Sade, was a French aristocrat and writer who was notorious for his immoral lifestyle, and whose name provided the basis for the modern terms sadism and sadist . Among de Sade s best known works are the erotic novels Justine, or Good Conduct Well Chastised, Juliette, or Vice Amply Rewarded, and The 120 Days of Sodom. Although an elected delegate to the National Convention during the French Revolution, de Sade was regularly incarcerated because of his lasciviousness, spending approximately 32 years in prison or in an insane asylum. He died in the asylum at Charenton in 1814. De Sade s life is depicted in the 2000 film Quills starting Geoffrey Rush, Kate Winslet and Joaquin Phoenix.



Winner of the National Book Award for translation and a graduate of Harvard University, Austryn Wainhouse left the United States for Paris partway through graduate work at the University of Iowa. He has worked in France as an editor and translator ever since. He was the first to translate the Marquis de Sade, including de Sade's 120 Days of Sodom, Juliette, and Justine. And he has translated the works of many other vital writers, including Pierre Klossowski, Georges Bataille, Simone de Beauvoir, and Jean Cocteau. Hedyphagetica, his only work of fiction, was first published by the Olympia Press. Wainhouse lives in the South of France.