How I Became Hettie Jones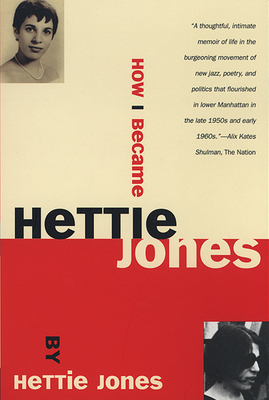 How I Became Hettie Jones
Grove Press, Paperback, 9780802134967, 256pp.
Publication Date: December 6, 1996
* Individual store prices may vary.
Buy Now
or
Shop Local
Enter your zip code below to purchase from an indie close to you.
Description
Greenwich Village in the 1950s was a haven to which young poets, painters, and jazz musicians flocked. Among them was Hettie Cohen, who'd been born into a middle-class Jewish family in Queens and who'd chosen to cross racial barriers to marry the controversial black poet LeRoi Jones. Theirs was a bohemian life in the awakening East Village of underground publishing and jazz lofts, through which drifted such icons of the generation as Allen Ginsberg, Thelonious Monk, Jack Kerouac, Frank O'Hara, Billie Holiday, James Baldwin, and Franz Kline.
About the Author
About Dorothy: Dorothy grew up in Winston-Salem, North Carolina, the youngest of six during Jim Crow and the Great Depression. In the 1950s, when her personal feelings of isolation pushed her to seek her place in the world, she "fell" into what would become her life's mission doing work on the "inter-racial" level, well before the terms Race Relations or white privilege were coined. Her newfound commitment took her on a journey working throughout the U.S. where witnessed several historical moments and people in the burgeoning Civil Rights Movement. Putting off marriage and motherhood, she continued to educate herself on what she still didn't know about the role Race played in her life. After getting married "late" and moving to racially diverse Teaneck, New Jersey, she continued using what she knew to enlighten others as a consultant in the New York area and beyond, well past retirement. She finally began writing this story in her late sixties, surprised to discover that though she wasn't on the front lines, she too had contributed towards achieving liberty and justice for all. When dementia took effect in her late seventies, her daughter Kaypri took over the task of completing her mother's book for her 80th birthday. For more info: www.dorothystory.com I Didn't Know What I Didn't Know page on Facebook About Kaypri - Editor, Co-Author A graduate of Howard University's Department of Theater Arts, Kaypri has worked with adolescents for over a decade in the New Jersey suburbs, the Bedstuy/Bushwick sections of Brooklyn, Winston-Salem, North Carolina and the Watts section of Los Angeles with the foster kid advocacy organization, Peace4Kids (www.peace4kids.org). Telling Dorothy's Story will always be her major literary achievement and greatest gift. As an actor she has been in several indie films and Webisodes (roomieloverfriends, Entangled With You) as well as off-Broadway in NYC with BABYGIRL, her solo play. Kaypri edited and completed Dorothy's Story www.dorothystory.com and is publishing two of her own projects in 2015. She also has a a screenplay about ACoA's (Adult Children of Alcoholics), an update on Beah Richard's A Black Woman Speaks, and a play about the idea of Saturn's Return, 4ever 27. She will also be launching her inspirational greeting card line, Priscilla Belle, in honor of her late Aunt Priscilla. (1911-2007). For more info on the adventures of Babygirl, Kaypri and Beyond, please visit www.kaypri.com.