Oranges Are Not the Only Fruit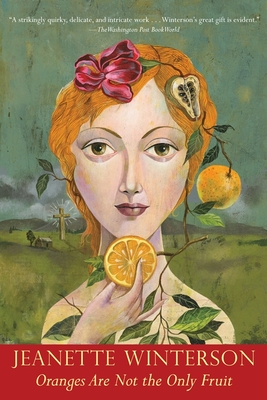 Oranges Are Not the Only Fruit
Grove Press, Paperback, 9780802135162, 192pp.
Publication Date: August 1997
* Individual store prices may vary.
Shop Local
Enter your zip code below to find indies closest to you.
Description
Winner of the Whitbread Prize for best first fiction, Oranges Are Not the Only Fruit is a coming-out novel from Winterson, the acclaimed author of The Passion and Sexing the Cherry. The narrator, Jeanette, cuts her teeth on the knowledge that she is one of God's elect, but as this budding evangelical comes of age, and comes to terms with her preference for her own sex, the peculiar balance of her God-fearing household crumbles.
About the Author
Jeanette Winterson s first novel, Oranges Are Not The Only Fruit, won the Whitbread Prize for Best Novel. Since then, she has published seven other novels, including Lighthousekeeping, The Passion, Written on the Body, and The Powerbook, a collection of short stories, The World and Other Places, a books of essays, Art Objects, and most recently a children s picture book, The King of Capri. She has adapted her work for TV, film, and stage. Her books are published in thirty-two countries. She lives in Oxfordshire and London.
Praise For Oranges Are Not the Only Fruit…
"A striking, quirky, delicate, and intricate work . . . Winterson has mastered both comedy and tragedy in this rich little novel. . . . Winterson's great gift is evident." The Washington Post Book World

"A daring, unconventional comic novel . . . by employing quirky anecdotes, which are told with romping humor, and by splicing various parables into the narrative, Winterson allows herself the dangerous luxury of writing a novel that refuses to rely on rousing plot devices. . . . A fascinating debut . . . A penetrating novel." Chicago Tribune

"If Flannery O'Connor and Rita Mae Brown had collaborated on the coming-out story of a young British girl in the 1960s, maybe they would have approached the quirky and subtle hilarity of Jeanette Winterson's autobiographical first novel. . . . Winterson's voice, with its idiosyncratic wit and sensitivity, is one you've never heard before." Ms.

"The overwhelming impression of her work is one of remarkable self-confidence, and she evidently thrives on risk. As good as Poe: it dares you to laugh and stares you down." The New York Review of Books

"An explosively imaginative writer." The London Free Press

"She is a master of her material, a writer [of] great talent." Muriel Spark

"Many consider her to be the best living writer in this language." Evening Standard

"The most interesting writer I have read in twenty years." Gore Vidal