Broken for You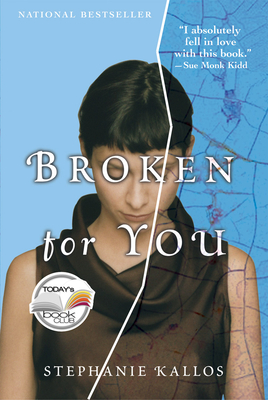 Broken for You
Grove Press, Paperback, 9780802142108, 373pp.
Publication Date: June 7, 2005
* Individual store prices may vary.
Buy Now
or
Shop Local
Enter your zip code below to purchase from an indie close to you.
Description
National best seller and Today show Book Club selection, Broken for You is the story of two women in self-imposed exile whose lives are transformed when their paths intersect. Stephanie Kallos's debut novel is a work of infinite charm, wit and heart. It is also a glorious homage to the beauty of broken things. When we meet septuagenarian Margaret Hughes, she is living alone in a mansion in Seattle with only a massive collection of valuable antiques for company. Enter Wanda Schultz, a young woman with a broken heart who has come west to search for her wayward boyfriend. Both women are guarding dark secrets and have spent many years building up protective armor against the outside world. As their tentative friendship evolves, the armor begins to fall away and Margaret opens her house to the younger woman. This launches a series of unanticipated events, leading Margaret to discover a way to redeem her cursed past, and Wanda to learn the true purpose of her cross-country journey. Both funny and heartbreaking, Broken for You is a testament to the saving graces of surrogate families and shows how far the tiniest repair jobs can go in righting the world's wrongs.
About the Author
Stephanie Kallos spent twenty years in the theatre as an actor and teacher. She is the author of the bestselling, award-winning novel Broken for You, which has been translated into 10 languages. She lives in Seattle with her husband and two sons.
Praise For Broken for You…
There is a message here about creating family in the most unusual places.I promise you this; you will not be sorry you read this bookthere is a wisdom and soulfulness there.It's a wonderful, engaging story." Sue Monk Kidd, author of The Secret Life of Bees

A compelling, richly layered story reminiscent of works by John Irving and Anne Tyler in its bittersweet humor and well-drawn characters." Library Journal (starred review)

Moving and endearing, painful and satisfying, put together in just the right shape." Detroit Free Press

A novel of redemption." The Washington Post

Broken for You is a romance for the Eleanor Rigbys of the world, those lonely people who find unexpected happiness by creating a surrogate family." Seattle Post-Intelligencer

Theater veteran Kallos debuts with a dazzling mosaic of intersecting lives and fates. . . . Kallos has a rare, deft way with whimsy, dream sequences and hallucinations. Comparisons to John Irving and Tennessee Williams would not be amiss in this show-stopping debut."
Kirkus Reviews (starred review)

Well-crafted plotting and crackling wit make this debut novel by Seattle author Kallos a delight to read and a memory to savor. The compelling story highlights the losses and disjointedness of life and the many paths back to healing for those who seek the way. . . . The clever plot and luminous characters are not all that place this novel at the head of the class. Ghostly characters only Margaret sees and heaps of broken porcelain provide powerful metaphors for the sins of the past and the need for personal sacrifice. Book groups will enjoy discussing the layers of meaning, the stylistic nuances, and the powerful message of hope secreted in these pages." Jennifer Baker, Booklist (starred review)

Tikkun olam is a Hebrew phrase that means repair the world,' and this imperative serves as the narrative catalyst of Broken for You. . . . This is a novel of redemption."
Susan Coll, Washington Post

This is ultimately a work of repair and redemption. . . . Kallos has given us a compelling, richly layered story reminiscent of works by John Irving and Anne Tyler in its bittersweet humor and well-drawn characters. Carol Shields also comes to mind for the sharp attention to domestic detail and insight into the tenuous relationships of contemporary life. . . . Recommended for all fiction collections."
Jenn B. Stidham, Library Journal (starred review)

Sweetly rich with detail, and when romance sneaked into the book, I was sure it was a story of redemption and second chances. . . . Broken for You is moving and endearing, painful and satisfying, put together in just the right shape." Susan Hall-Balduf, Detroit Free Press

A story of growth and redemption filled with a delightfully offbeat cast of characters. . . . Kallos writes in a chatty, breezy style that fits the quirkiness of the characters. . . . There's an almost magical feeling to this story." Ann M. Colford, Pacific Northwest Inlander

Refreshing and delightful . . . sincere in its originality, fun in its engagement. . . . In her acknowledgements, Kallos states that the novel took her seven years to finish, and there is a definite sense that this is a book that has been well-raised. Care has been taken in its telling. . . . Nothing feels rushed, the timing and pace just right." Lacey Galbraith, Nashville Scene

Kallos . . . has taken well-developed and honestly imperfect characters who were once strangers, and intertwined them lovingly in a beautiful mosaic that may forever hang in readers' minds and remind them of why some things must break before they can become a part of something truly beautiful." Colleen Dougher, Sun-Sentinel

A series of reunions, tragedies and newfound friends highlights Kallos' sparkling first novel, but the author's attention to detail leads the reader to believe she's a longtime novelist. A supporting cast of characters colors the story and reinforces the theme of love and familyboth by blood and by choice." Michael Bratcher, The Sunday Oklahoman

Artful meandering is only part of the magic. . . . A wondrous tale, peopled with quirky characters and implausible plot twists, but no cheap tricks. . . . If you open yourself to the world Kallos has created, you may not have the foggiest idea where she is taking you, but you will willingly go, as she pulls you along, piece by piece."
Cindy Lange-Kubick, Lincoln Journal Star

[A] dreamy, powerful tale of familial warring, secrets and redemption . . . . This haunting and memorable debut is reminiscent of early [Margaret] Atwood, peopled by lovably imperfect and eccentric characters." Publishers Weekly

Set in contemporary Seattle, this debut novel features a septuagenarian recluse and a young woman with a broken heart. How these two women come together, open up to each other, themselves, and those around them makes a fascinating and compelling book."
Akankha Perkins, The Sun of the Heart Bookstore, Bridgewater, VT, Book Sense quote

This book will appeal to fans of Anne Tyler or Eleanor Lipman, or any reader who enjoys a smart, touching story with an unforgettable array of quirky characters."
Bridget, Toadstool Bookshop (Peterborough, NH)

Mesmerized by the first page, I read this book in one sitting, and it has been a favorite of the 40 book clubs registered at our store. There's plenty to discuss in this amazing novel of hope and transformation. Kallo's humor, wit, and beautiful plotting are amazing and a joy to read." Sally Brewster, Park Road Books (Charlotte, NC)

Stephanie Kallos's lovely and heartfelt first novel is a gift. A story of broken hearts and broken promises, it is also the story of the ways we put things back togethermessily, beautifully, and ultimately triumphantly. Kallos is a writer to watch, and one who, mercifully, still believes in happy endings."
Sheri Holman, author of The Dress Lodger and The Mammoth Cheese

Let the angels in! With this story of transformative friendships, Stephanie Kallos calls us to leave the dreary wisdom of our lives and seek the company of souls adrift. Good things come in pieces." Nancy Rawles, author of Crawfish Dreams

In this sparkling debut novel, Stephanie Kallos has created an extraordinary testament to the power of love and forgiveness. Broken For You is a big-hearted book that pulses with life." Tova Mirvis, author of The Outside World and The Ladies Auxiliary

A seventy-six-year-old woman who's just learned that she has a brain tumor takes in a thirty-four-year-old woman who's just been dumped by her boyfriend. Can this be funny? Yes. Painfully funny, beautifully written, and completely original. I love this novel."
Lolly Winston, author of Good Grief