On Love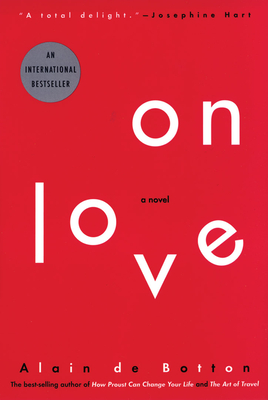 On Love
Grove/Atlantic, Paperback, 9780802142405, 194pp.
Publication Date: January 2006
* Individual store prices may vary.
Shop Local
Enter your zip code below to find indies closest to you.
Description
The best-selling author of How Proust Can Change Your Life and The Art of Travel revisits his utterly charming debut novel, On Love. The narrator is smitten by Chloe on a ParisLondon flight, and by the time they ve reached the luggage carousel he knows he is in love. He loves her chestnut hair, watery green eyes, the gap that makes her teeth Kantian and not Platonic, and her views on Heidegger's Being and Time but he hates her taste in shoes. Plotting the course of their affair from the initial delirium of infatuation to the depths of suicidal despair, through a fit of anhedonia defined in medical texts as a disease resulting from the terror brought on by the threat of utter happiness and finally through the terrorist tactics employed when the beloved begins, inexplicably, to drift away, On Love is filled with profound observations and useful diagrams, examining for all of us the pain and exhilaration of love.
About the Author
Alain de Botton is the bestselling author of "How Proust Can Change Your Life, " as well as numerous other works of fiction and essays. He is well-known for making complex philosophical and artistic subjects accessible for a wider audience. De Botton founded the School of Life, a series of lectures in London that aim to make academic learning applicable to real life. With the success of the school, this concept was adapted into The School of Life book series. De Botton lives and works in London.