Halsey's Typhoon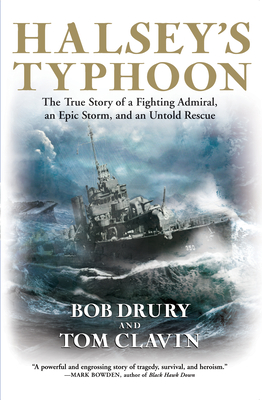 Halsey's Typhoon
The True Story of a Fighting Admiral, an Epic Storm, and an Untold Rescue
Grove Press, Paperback, 9780802143372, 325pp.
Publication Date: November 1, 2007
* Individual store prices may vary.
Buy Now
or
Shop Local
Enter your zip code below to purchase from an indie close to you.
Description
"Halsey's Typhoon" is the story of World War II's most unexpected disaster at sea. In the final days of 1944, Admiral William Bull Halsey is the Pacific theater's most popular and colorful naval hero. After a string of victories, the Fighting Admiral and his thirty-thousand-man Third Fleet are charged with protecting General MacArthur's flank during the invasion of the Philippine island of Mindoro. But in the midst of the landings, Halsey attempts a complicated refueling maneuver and unwittingly drives his 170 ships into the teeth of a massive typhoon. Halsey's men find themselves battling 90-foot waves and 150 mph windsamid the chaos, three ships are sunk and nearly nine hundred sailors and officers are swept into the Philippine Sea. For three days, small bands of survivors battle dehydration, exhaustion, sharks, and the elements awaiting rescue at the hands of the courageous lieutenant commander Henry Lee Plage, who, defying orders, sails his tiny destroyer escort, the USS "Tabberer," back into the storm to rescue drifting sailors. "Halsey's Typhoon" is a gripping true tale of courage and survival against impossible oddsand one of the finest untold World War II sagas of our time.
About the Author
Bob Drury is the author/coauthor/editor of nine books. He has written for numerous publications, including "The New York Times", "Vanity Fair", "Men's Journal", and "GQ". He is currently a contributing editor and foreign correspondent for "Men's Health". He lives in Manasquan, New Jersey.

Tom Clavin is the editor of the "East Hampton Independent" and the "Southampton Independent", two of the most award-winning weekly newspapers in the United States. His articles have appeared in "Reader s Digest", "Cosmopolitan", "Golf" magazine, "Family Circle", and other publications. Clavin is also the coauthor of "Halsey s Typhoon".
Praise For Halsey's Typhoon…
A powerful and engrossing story of tragedy, survival, and heroism." Mark Bowden, author of Black Hawk Down

A taut chronicle of the storm and its survivors, impeccably researched and thrillingly told." Men's Journal

This book is so good that I kept forgetting I was reading it to ensure accuracy instead of merely reading because it was captivating. What a terrific story. Where did we find such men?" Captain Michael J. Jacobsen, United States Navy

If the Beaufort scale were a thrill meter, Halsey's Typhoon would rate a force 12." Anthony Brandt, National Geographic Adventure

An impressive, long-overdue account of the U.S. Third Fleet's encounter with a savage typhoon off the Philippines in the autumn of 1944 . . . Entirely gripping . . . A guaranteed hit with maritime buffs." Booklist

A great strength of this book is how the reader is made to feel the tension between logistical necessity and fate in the form of a storm whose path was rendered unpredictable by the imperfect science of the day. The pay off is in the body of the book, a nonstop, teeth-gritting, nonfiction thriller that is made up of eyewitness accounts of nature doing her worst and men doing their bestunder horrific circumstances. Reads at a gallop and is extremely well researched. Bob Drury and Tom Clavin have done it." Russell Drumm, East Hampton Star

For more than 60 years, one of the country's greatest tales of bravery and heroism has gone untold. The story, told in plain language by dozens of men who witnessed or survived the actual tragic events but kept mum for outdated reasons, spent that time gathering dust in a box amid hundreds of thousands of other boxes in a cavernous government warehouse. Until Tom Clavin and Bob Drury found it." Michael Wright, Southampton Press

Not just a top pick for World War II history holdings, but for general interest collections strong in wartime adventure stories. An extraordinary account of an extraordinary, little-revealed event which provoked extreme heroism under extreme conditions." Library Bookwatch

Drury and Clavin's book could not be better timed, given the renewed interest in the Pacific theatre and public awareness now of the infighting between and among military and civilian leaders over policies and procedures in Iraq. Halsey's Typhoon delivers a fine, fact-filled account of the various rivalries and disagreements of the major players. The book also provides a suspense-laden account of extraordinary endurance and heroic risk that resonates as a contemporary disaster tale. Easy, engaging and informative reading." Joan Baum, The Independent

[Halsey's Typhoon] is not just a top pick for World War II history holdings, but for general-interest collections strong in wartime adventure stories. An extraordinary account of an extraordinary, little revealed event which provoked extreme heroism under extreme conditions." Internet Bookwatch

A riveting tale of the fierce storm that capsized three ships, damaged dozens of others and killed 793 sailors." Carol Comegno, Courier-Post (NJ)

Superb . . . My father flew torpedo bombers off these same carriers in these same waters, perhaps with these same men. Drury and Clavin's writing is as clever and compelling as it is rich with detail, and for me, my father lived in each line. He once told me that the second most magnificent sight he had ever seen (after my mother on a blind date) was while flying his TBM off Saipan, and being able to see in all directions nothing but the United States Navy steaming toward Japan. I wish he were still alive so I could present him with this magnificent book." Gary Kinder, author of Ship of Gold in the Deep Blue Sea

I thought I was a student of military history, but until I read Halsey's Typhoon, I had no inkling that such an epic disasterand an even more epic rescue missionstruck the U.S. Navy in World War II. This is a brilliant book, a rip-roaring read that puts you, sweating with fear, right in the middle of the action. It's so good, I'll ignore the fact that the navy guys are the heroes." Colonel (Retired) David Hunt, Fox News counterterrorism and military analyst and author of They Just Don't Get It

[Halsey's Typhoon] tells the story of human heroes and human failure in terms of those who lived the ordeal and suffered great loss. The anecdotal aura, supported by scientific, technical, and naval tactical information, places this story in the peerless category with Last Stand of the Tin Can Sailors. It is a part of our history that deserves the light of day because of its valuable lessons and the intrepidity of those who came courageously to the rescue of sailors at seaa tradition that stands at the pinnacle of man's responsibilities." Vice Admiral (Ret.) Edward S. Briggs, United States Navy

[Halsey's Typhoon] is a tale of high adventure that was carefully researched by two established writers Drury and Clavin have done a fine job. Their work has first place on my Christmas gift list for Navy Friends." Colonel (Ret.) Gordon W. Keiser, U.S. Marine Corps, Proceedings

I couldn't put this great read down. This account of Admiral William 'Bull' Halsey's Pacific Fleet facing a devastating typhoon during WW II has military history, naval operations, suspense, adventure, tragedy, and triumph interwoven in a little-known episode from the war in the Pacific." Rich Daley, Pass Christian Books, Pass Christian, MS, Book Sense quote

With Halsey's Typhoon, Drury and Clavin have discovered an epic nautical adventure worthy of Joseph Conrad. What's more, their telling of the story is at once taut, poignant, and evocative. You can smell the blood in the water, but you can't put it down." Mark Kriegel, author of Namath and Pistol: The Life of Pete Maravich

Terrifying . . . This is not just a tale of men against nature. It's also a tale of men for, and against, other men." Kirkus Reviews

Absorbing . . . A vivid tale of tragedy and gallantry at sea." Publishers Weekly